I would like to take this opportunity to remind us why March 8 is such an important day for everyone across the globe. International Women's Day is a worldwide celebration of women: recognizing their economic, cultural, social, political and all other accomplishments. On behalf of Dhaka Women Chamber of Commerce & Industry (DWCCI), we express our solidarity & thank all those tireless female champions who have worked so hard for their achievements.
The Asian Development Bank (ADB), projected that Bangladesh will deliver 8 per cent GDP growth, the highest in Asia, in the current fiscal year. Women accounted for 39.167 per cent of the total labor force in 2020 (world) and that number continues to grow. Bangladesh carries on breaking boundaries and shattering the glass ceiling for women in multiple aspects. DWCCI salutes and feels utmost pride under the leadership of our Honorable Prime Minister Sheikh Hasina. Under the guidance of a dynamic female leader, the country continues to achieve outstanding economic and social success.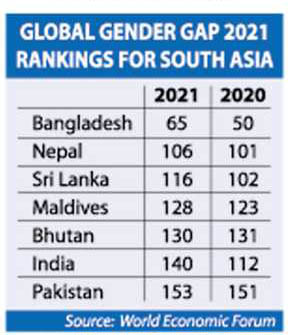 Bangladesh has made incredible progress on the Gender Index before the Covid-19 pandemic. The 'Global Gender Gap 2020' report published by the World Economic Forum finds Bangladesh as the top ranked country in South Asia in terms of narrowing the gender gap. This is a matter of great pride for the country, gaining independence just 50 years ago, yet achieving the highest rank of the SAARC region. As a women chamber, we feel especially proud to be at the top. Our members feel encouraged and these indicators help them feel confident in taking their entrepreneurship to the next level.
This is monumental towards access to information for ordinary individuals. Historically women have had a hard time connecting with government institutions with limited access. Now they are several clicks away from readily available information. As we know, information technology is one of the major components for moving forward in all aspects, especially as a country.
In its recent report to the UN General Assembly the Government of Bangladesh has emphasized its utmost priority in eliminating inequality and improving the living standard. This will ensure women's empowerment, which will lead towards a developing country. Dhaka Women Chamber of Commerce & Industry (DWCCI) strongly supports this initiative of the government by giving top priority to the following areas:
(1) The urgent need to stop violence and abuse against women and girls; (2) The economic emancipation for women- where they earn, contribute, control and spend their money without any pressure; (3) Eliminating child marriage- every girl child has the right to continue her education; (4) Participating in all decision making, professionally and personally.
If we take in account the recent growth rate as an indicator, one can optimistically assume that Bangladesh will be able to minimize most of the primary areas of focus. There is no denial of the active involvement of women in trade, commerce and all other types of workplaces. They are an integral part of society, arguably better multitaskers than their male counterparts. To empower and further strengthen women, more leadership roles in workplace and homes must be encouraged. To move towards inclusive &sustainable development, the gap between gender equality must be minimized even further.
The theme for March 8, 2022-- "Gender equality today for a sustainable tomorrow". This theme is cohesive with the United Nations multigenerational campaign, where it is essential not to discriminate due to age or generational differences. We need to raise our voices and work to create awareness at all age groups. The year 2022 is central for advancing gender equality. It sets the example for the coming decade for Women's Rights, where women and girls are not marginalized.
Wishing you all the best on International Women's Day.
Naaz Farhana Ahmed is President,
Dhaka Women Chamber of Commerce & Industry (DWCCI)