Chevron is one of the world's leading integrated energy companies, involved in virtually every aspect of the energy industry. As a global energy provider, we have helped deliver many of society's most important advancements. We have a vital role to play in meeting growing demand for affordable, reliable, ever-cleaner energy, which continues to enable human progress around the world.
Chevron is the largest American investor in Bangladesh. We partner with the Government and Petrobangla, to help ensure energy security for the nation and play a part in the quest of emerging as a developed country by 2041.Chevron Bangladesh is the country's largest producer of natural gas and condensate and has produced an average of approximately 1.5 billion cubic feet per day to supply clean energy to Bangladesh since 2016.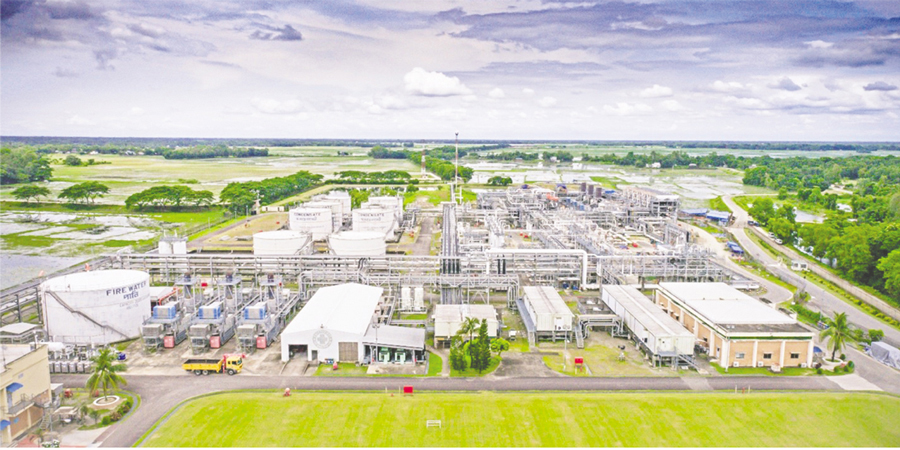 Chevron Bangladesh operates three fields: Bibiyana, Jalalabad, and Moulavi Bazar and produces over 50% of the country's gas demand and over 80% of condensate in the country.
As a proud partner of Bangladesh, Chevron has invested over 3.6 billion US dollars of Foreign Direct Investment including over $550 million US dollars in contracts with local suppliers and contractors in the last 12 years.
Solutions start with problem solving, which is exactly what the people of Chevron do. We believe the imagination and perseverance of people will continue to deliver solutions to energy's greatest challenges. More than 95% of Chevron's employees are Bangladeshi nationals. With our talented employees we are delivering world class performance in safety, reliability and production efficiency.
Achieving a lower carbon future that serves all people requires ambitious innovations and pragmatic solutions that deliver measurable results. Our actions will make energy and global supply chains more sustainable, helping industries and customers who use our products advance a lower carbon world. Globally, Chevron is spending $10 billion in lower carbon capital investment between2021 and 2028 with the goal of reducing the carbon intensity of our business and building new lower carbon energy businesses. Last year, in Bangladesh, we successfully completed a study to offset carbon emission in our operation and identified lower carbon opportunities for execution.
Our strong culture and global reputation are built on the principles of trust, safety and integrity. We deliver results the right and responsible way. We help deliver the energy Bangladesh needs while protecting the environment. And to do that we deploy leading technical know-how and capability in an efficient and cost-effective way. In Bangladesh, we have achieved a remarkable safety record and world class production efficiency.
Social investment in communities is a core value of Chevron's global business practice. In Bangladesh, Chevron has been managing community development programs since 2006. The key areas of social investment are health, education, and economic development. Chevron carries out most of these projects in partnership with leading nongovernmental organizations. Thousands of people in and around gas plant facilities operated by Chevron Bangladesh in the greater Sylhet region benefit through various social development initiatives.
The country is on an upward trajectory of growth, social mobility, and strong international relations. The past 50 years are testament to the economic miracle of Bangladesh.
Together with the people and Government of Bangladesh, Chevron looks forward to the nation's energy future with optimism and confidence.
Eric M Walker is President and Managing Director of Chevron Bangladesh