Insurance industry in general is a complicated and paper-intensive industry. From filling up proposal forms to issuing policy documents and other task involving use of huge papers. These complicated tasks can be managed in a prudent manner through adoption and implementation of a software-based platform, namely Enterprise Resource Planning (ERP).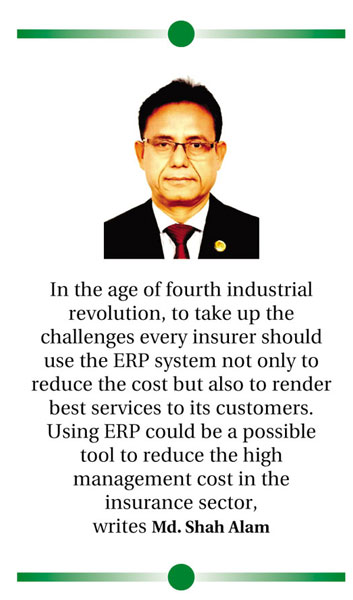 Bangladesh government has ramped up its effort to digitalise all sectors at a fast pace in line with the changing environment of fourth industrial revolution.
Bangladesh insurance industry suffers from multiple problems including its high management expenses due to its work habit of doing things manually leading to delay in settling claims.
Such types of problems can be easily solved in an easy way by adopting ERP solutions. But its adoption is still not acceptable mainly due to the fact that business owners are thinking of it as a luxury expense.
As per the current global practice, development of IT and the ERP infrastructure has shifted to need-based rather than an expense as benefits of using ERP always override the procurement cost and it is proved worldwide.
Currently only a handful of insurers are using the ERP system in the country and some of them are using it partially and the rest of them do it in the manual process. Without technology they cannot meet the demand of policyholders as they are getting user-friendly services from other areas of the financial systems, e.g., banks.
To continue the business perfectly with using cutting edge technology they must adopt ERP to streamline their functioning.
ERP has many exceptional features which are fully designed to provide operational efficiency, systematic process alignment and adherence to SOPs, prompt, transparent and finest services.
ERP works as a fully integrated system and works in real time. A common database supports all the applications. It has different modules for different departments and integrates all the departments by a single large system.
ERP facilitates information flow among all business functions and manages connections to outside stakeholders. Therefore with correct real-time data from all operational divisions, correct and timely decisions can be made benefiting the company through an action-oriented solution model, instead of reacting to problems and always being behind.
ERP systems run on a variety of computer hardware and network configurations, typically using a database as an information repository.
Most importantly, due to the insurance sector being a commitment and service-based industry, operating through an ERP ensures that the service and commitment are met promptly thus enhancing trust, leading to a sustainable and promising future. Therefore developing and operating an ERP system are critical to the progress and growth of the industry and differs in many ways from the traditional manual set-up in the insurance industry.
In the insurance sector the ERP system can be used in multiple fields. List of areas where ERP can be used are as follows:
Finance and Accounting: In preparing the general ledger, Income statement and Balance sheet, Fixed Assets management, receivables cash management and collections and financial consolidation, ERP plays a pivotal role. These task take huge time and cost to do manually.
Act as Policy Repository: ERP system collects various information including policy data. As a result the ERP system acts a policy repository system.
Management Accounting: Budgeting, costing and financial management.
Human resources: From recruitment to maintaining their personal data, in all cases the ERP system could be the best solution.
Project Management: ERP can be used in Project Planning, resource planning, project costing, time and expenses management, performance units and activity management.
Data services: Various "self-service'' interfaces for customers, suppliers or employees.
Policy Information: As ERP works as a policy repository platform it can use it for policy information.
Claim Settlement: ERP enables insurers to settle claims at a fast pace compared to non-ERP users.
Actuarial Valuation: Conduct actuarial valuation process without a digital platform cannot be imagined. Using ERP, insurers provide policy data in a prudential manner to the actuary. If the company maintains policy data through ERP, it becomes easy to inspect the validity of data. For the error-free data management, it is important to have an ERP system in place.
The importance of ERP solutions in the insurance sector:
(1) Insurance is a contract between an insurer and an insured. The insurer guarantees compensation for the loss incurred by the insured for the conditions stated in the contract. In exchange for the insurer looking out for the other person, the insured pays a yearly/ monthly premium to the insurance company. When it comes to insurance management the ERP software makes all these process simplier, better and faster.
(2) Managing the insurance sector is a complex task that requires a large workforce. The right ERP solution can simplify and improve the process through centralisation and management of information, simplifying data gathering and improving resource management.
(3) Every business wants to grow. It is more important for the insurance sector. For that, they take help of software solutions. These solutions help them manage and optimise the business cycle. The ERP software is designed to do just that for insurance business.
(4) ERP solutions are destined to optimise the operations of insurance agencies preparing there to stay miles ahead of the competition. ERP is a boon to organisations as it helps in integrating the company data into a common platform. In order to have appropriate data back-up and analytic strategies and take care of legal agreements, these asset and life protection services companies utilise ERP innovations as the premier solutions.
ERP provides the insurers and agents with a common platform that helps them forecast and track sales and facilitates coordination between their marketing departments and consumers.
The implementation of an ERP system aids the insurance agency to focus on streaming process, especially pertaining to compliance management and claims processing. These ensure improved turnaround time and increased customer loyalty.
In addition to accessing customer data in real time, insurance agencies would have the ability to track any agents for a scheduled meeting with the use of an ERP system.
(5) ERP system can also further enhance the time management of an insurance agent by allowing them to stay on top of their schedules and even access crucial data on the go from any device. After the intervention of ERP the essential aspects of an insurance agency that is selling, marketing can have automatic continuous updating with transparency, allowing the insured to know the status of their ongoing claims proceedings.
(6) The insurance industry is one of the most heavily regulated industries in today's economy. When there are changes to legislation, organisations must be able to access their data and present to the relevant body as quickly and efficiently as possible. Being able to evidence this data ensures the insurance business remains compliant. The ability to analyze and visualize data is a huge selling point for many companies in the industry. Being able to slice, dice and present data when needed with visually stimulating dashboards is a great advantage, especially when there is so much data at hand.
(7) One of the most significant functional aspects of an ERP system is the ability to integrate data from several departments and bring it into one unified data base. In the insurance industry this is especially important when tracking customer history including past transactional details, personal data and legal agreements.
(8) Insurance brands pride themselves on the high quality service they deliver to their customer and in such a competitive market it's easy to see why such a considerable emphasis is placed on this. Companies that specialise in expert star ratings look to insurance agencies to provide the quality service expected. Having an ERP system in place is the first step in ensuring this. By accessing important information about customers at the click of a button, insurers can provide an efficient service, encouraging brand loyalty and repeat business.
(9) Profitability is the end goal and tracking all aspects of our sales process and activity is incredibly important when it comes to providing insurance. Outbound and inbound sales calls, referrals, cross-sell quotes and internet leads are all the key sets of data we can record easily. Identifying and analyzing every touch point and result with a customer can help make the best and most informed business decisions.
Besides, it helps in relationship building and nurturing with insurance customers. It manages as many centres as we want. It offers optimisation for insurance processes. ERP creates synergy with distribution channels effectively. It manages end-to-end business operations and requirements.
Conclusion: Technology is the biggest game changer in global financial market. Tracking potential customers, selling financial products, engaging customers for long time, processing numerical data, preparing financial accounts, storing data and maintaining inter departments are the key tasks being done thorough ERP in the modern world. In the age of fourth industrial revolution, to take up the challenges every insurer should use the ERP system not only to reduce the cost but also to render best services to its customers. Using ERP could be a possible tool to reduce the high management cost in the insurance sector. Therefore to stay strong in the highly competitive market insurers must adopt the ERP system.
The writer is the Director (Deputy Secretary) at the Insurance Development & Regulatory Authority (IDRA).