Bangladesh's dependency on import of fossil fuels is set to swell up significantly from early 2018 as the country, for the first time, is set to start importing 'expensive' LNG (liquefied natural gas).
The country currently imports around 5.9 million tonnes of petroleum products, crude and refined oil combined, and 480,000 tonne of LPG (liquefied petroleum gas) every year to meet domestic requirement.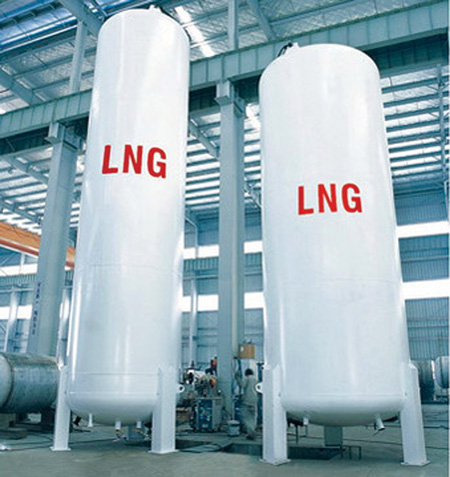 Although inclusion of LNG in the import basket of fuels would diversify the country's energy sources, it would escalate the energy costs significantly.
Against the backdrop of depleting domestic natural gas reserve the government in 2010 had initiated the move to build a LNG import terminal to import the fuel although it took long eight years to execute the plan.
Bangladesh never felt the crisis of natural gas until 2009.
The consistent growth in natural gas demand due to growing industrialisation exceeded the production quantity after 2009 resulting in rationing of natural gas supply to industries, power plants and fertiliser factories.
Bangladesh is currently dependent on onshore fields for overall gas output, with production hovering around 2,700 million cubic feet per day (mmcfds) against the demand for over 3,300mmcfd, according to state-owned Petrobangla.
The country has a total of 26 discovered gas fields, of which gas is being extracted from 20 fields.
Natural gas production in the country has been witnessing growth every year since its inception in 1971.
But lack of necessary exploration and drilling works coupled with inadequate discovery of new gas led to the crisis of the fuel.
Despite having crisis, the country's lone oil and gas exploration company -- Bangladesh Petroleum Exploration and Production Company Ltd, Bapex, -- is sitting almost idle as it has no major drilling job in hand.
Although several international oil companies (IOCs) are operating under production sharing contracts (PSCs) in the country no drilling of wells is now being carried out by them.
US oil and gas giant Chevron in 2014 year completed drilling of over a dozen of new gas wells in its Bibiyana gas field in the country's northeastern region to augment natural gas production by around 300 mmcfd.
Chevron Bangladesh currently is not involved in any drilling activities.
Does not have any plan either to drill new wells in the near future.
The US firm is operational in three onshore gas blocks -- 12, 13 and 14 -- under PSCs signed with the government.
Singapore's KrisEnergy, which bought Irish Tullow's stakes to become the operator at block 9, does not either have any major drilling plan for the near future.
A joint venture (JV) of Australian Santos and KrisEnergy and another JV of Indian ONGC and Oil India Ltd, however, carried out 2D seismic surveys in three shallow water offshore blocks --SS-04, SS-09 and SS-11 -- in the Bay of Bengal.
But they are yet to initiate drilling of any well there.
South Korea's Posco Daewoo Corporation entered into a PSC deal for deep sea block DS-12 in March, 2017 and waiting for the next winter to initiate necessary 2D seismic survey.
Daewoo is optimistic of having new discovery in the block, which is located adjacent to Myanmar's AD-7 offshore block where also the Korean firm is the operator.
DS-12 and AD-7 are located in similar sediment and geological structure in the Bay of Bengal.
Posco Daewoo Corporation has been the most successful international oil company (IOC) in Myanmar since 2007 and two of the Daewoo-operated blocks-A-1 & A-3 -- in Myanmar are currently producing around 500 mmcfd of natural gas in total.
Daewoo inked the PSC under the Speedy Supply of Power and Energy (Special Provisions) Act 2010, which facilitates awarding contracts avoiding tenders and indemnifies officials concerned against prosecution for making decisions.
This was the first incident of awarding any PSC deal under the special law. Petrobangla had inked all the previous PSCs with IOCs under open tendering.
Bangladesh earlier had awarded the DS-12 block along with two other deepwater blocks, DS-16 and DS-21, to a joint venture of US's ConocoPhillips and Norwegian Statoil under the previous 2012 bidding round but they refused to ink PSC on the plea of 'poor fiscal terms' in the model contract.
Bangladesh did not offer any onshore oil and gas blocks for exploration by IOCs after 1997 although the country's entire natural gas production comes from onshore gas fields alone.
Although the government shelved the plan to launch onshore bidding, it continued awarding onshore wells for drilling by the IOCs under the special law bypassing tendering system.
Russian Gazprom has already carried out a 15-well drilling programme under contract basis.
It further bagged two more wells for drilling.
Chinese Sinopec International Petroleum Service Corporation has also completed four onshore gas well drilling programmes of state-run Titas gas field.
A consortium of Chinese Geo-Jade Petroleum Corporation and US's Longwood Resources have been awarded to explore and develop four onshore gas fields in Bangladesh under a JV with the state-run Bapex.
The government has, however, also moved to award more drilling programme to some more IOCs under the special law.
According to the draft final report Bangladesh's Gas Sector Master Plan (GSMP) 2017, the country will have to import around 4,000 mmcfd equivalent of LNG to meet the mounting natural gas demand by 2041
Natural gas production from Bangladesh's domestic gas fields will reach its peak to around 2,700 mmcfd in 2017 and then it will start declining, the report stated.
The South Asian country's existing gas reserve of around 12 Tcf will be completely exhausted by 2038, if no new exploration and discovery takes place.
The GSMP has been prepared by Copenhagen-based research firm Ramboll in association with Geological Survey of Denmark and EQMS Consulting Limited.
Ramboll officially handed over the report to state-run Petrobangla this month, said the official.
Bangladesh government has set a target to be a developed nation by 2041 after achieving all necessary economic growth.
The report, however, suggested for rigorous exploration activities in onshore as well as offshore areas of the country, which it said, could raise daily gas supply by 1.40 Bcf from about 5 Tcf new reserves.
It suggested accommodating domestic Gas prices with the LNG price.
Experts predicted that the country's energy prices go up three-fold by next 10 years following LNG imports.
However, upgrading the efficiency level of equipment might help reduce the prices.
It is, also a good news that the government has already waived import duties and supplementary duties of around 122 per cent on import of LNG.
The government is now making concerted efforts to move forward with LNG import infrastructure.
Bangladesh has already completed construction of its first dedicated pipeline to move re-gasified LNG to end-users and has three more in the works.
The 91 km (56 mile) 30-inch natural gas pipeline from Moheshkhali to Anowara, with a capacity of up to 800 mmcfd of gas has been completed and undergone the necessary testing.
A parallel 79 km 42-inch pipeline is currently under construction to carry additional volumes of imported regasified LNG from Moheshkhali to Anowara, which is due for completion in 2018.
Another 30-km 40-inch pipeline is under way to carry imported regasified LNG from Anowara to Fouzdarhat and supply it to end-users in the port city Chittagong.
Another 181 km 36-inch Chittagong-Feni-Bakhrabad gas transmission pipeline would also be laid down soon to distribute supply across the country from Chittagong.
The country's first LNG import terminal, a 3.75 million tonnes per year FSRU (floating, storage and re-gasification unit), being developed by US-based Excelerate Energy, is expected to be commissioned in April 2018 and its second, also with a capacity of 3.75 million tone per year, being developed by Summit Group, is expected to be commissioned by end 2018.
Both will be located at Moheshkhali Island in the Bay of Bengal, with ownership to be transferred to Petrobangla after 15 years of operations.
Petrobangla is also planning to set up at least two onshore LNG terminals, each with a capacity of 7.5 million tonnes per year, by 2025.
Petrobangla on July 13 inked its first ever deal with Qatar's RasGas to import 2.5 million tonnes of lean LNG per year for a period of 15 years.
Separately, Petrobangla has signed a memorandum of understanding (MOU) with Switzerland-based AOT Energy on LNG, with a sales and purchase agreement (SPA) due to be signed by year end.
It also received on August 17 the bids from 39 global firms who expressed interests to supply LNG to Bangladesh on a spot basis.
Although Petrobangla's contract with RasGas will be priced against international crude benchmarks, Petrobangla is counting on government subsidies to enable it to pay for the imported LNG.
Petrobangla has requested for a subsidy of $1.4 billion from the government to foot its LNG import bill for 2018 -- some 78 per cent of the total estimated cost, which is still under consideration of the Ministry of Finance.