The government's infrastructure projects, increased construction activities in rural and suburban areas and growth of the real estate sector are the factors which are fuelling demand for construction materials in Bangladesh. But for sustainable development there is no other option except using innovative, contemporary and eco-friendly construction materials.
Gypsum board is one of those innovative products but as of now. Usage of gypsum board is very limited in Bangladesh and is confined only in some corporate sectors. To bring the revolution in building material sector Partex Star Group stepped in to manufacture gypsum boards in the country.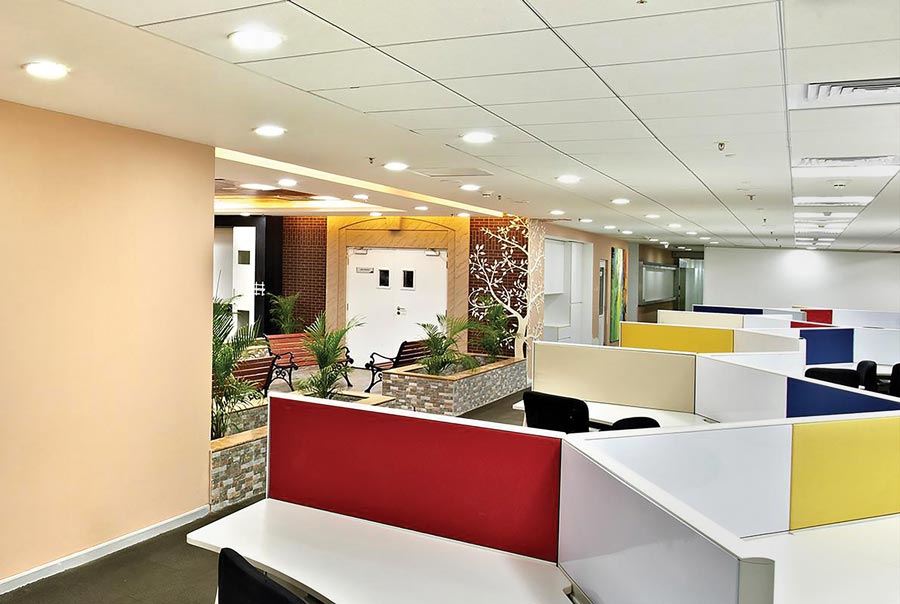 Walls made of gypsum boards are about 85 per cent lighter than the traditional brick walls. Consequently, apartments made of such lightweight construction materials are resilient to earthquakes.
The outstanding advantages of gypsum boards were elaborated by Quazi Mohammad Shahed, Chief Executive Officer, Complex-1 of Partex Star Group in an exclusive interview with the Financial Express (FE) recently.
"It [Gypsum Board] is a preferred and a safer option for earthquake prone areas. It also offers flexibility to change the layout even after construction of the building," Mr. Shahed told the FE at his Tejgaon office.
Partex Star Group kept on flourishing with its quality and commitment under the prudent leadership of the Group's Vice Chairman, Mr. Aziz Al Kaiser.
Mr. Shahed is currently leading Strategic Business Units of Complex-1 of Partex Star Group - one of the leading conglomerates of Bangladesh.
Before joining Partex Star Group, he worked for Grameenphone and British American Tobacco as the Chief Human Resources Officer in Bangladesh and overseas headquarters.
The CEO, who is also a mechanical engineer, said gypsum dry wall has other advantages too, such as reducing overall building structural cost by lowering dead weight, maximising floor space and rapid installation without using hardly any water.
In a nutshell, gypsum board has fantastic features like ease of installation, sound-proofing, durability, economy and versatility, the CEO said.
The business conglomerate is the pioneer of such modern construction material in Bangladesh.
Partex Star Group established Star Gypsum Board Mills Limited early in 2018 with the aim of uninterrupted supply of the gypsum boards and ceilings across the country.
"It is the first and only gypsum board and ceiling manufacturer in Bangladesh with state-of-the-art technology located at Bandar, Narayanganj," the CEO told the FE.
Both gypsum boards and ceilings are marketed in the country with the brand name Partex.
There are also some imported gypsum products available in the local market, mostly imported from Thailand and China.
He said that investments for new industries in Bangladesh are still less protected. High tariff on raw materials import, high cost of fund, lack of incentives from the government and low duty on imported finished product results in many of such new industries to die in an uneven competition with imported products.
Mr. Shahed, with more than 30 years of experience in corporate world, said there is hardly any cost difference between modern gypsum dry wall and traditional brick wall.
However overall building cost will be much lower because of the reasons mentioned earlier.
It is better to use gypsum boards instead of bricks especially for interior walls as it will play a positive role in reducing the environment's pollution in our country. The traditional brick kiln emits carbon dioxide which has negative impact on both the environment and the fertility of the soil.
The CEO, who has vast experience in five major countries, noted that Bangladesh is at crossroads in urbanisation. Soaring urban land prices due to scarcity of land, technological advancement and population growth are some of the reasons behind the growing preference for high-rise buildings among developers. At the time of such rapid urbanisation, building vertical, taller structures is no longer a debatable proposition - it is a need of the hour like Hong Kong and Singapore who have similar land scarcity.
Mr. Shahed said construction sector's growth is increasing rapidly in the country as a result of economic development and fast paced urbanisation.
The banking sector has also pumped up its lending to the construction sector. As of September last year, credit flow to the construction sector stood at Tk. 800 billion - 20.24 per cent higher from a year earlier, according to data from the central bank.
On post-election prospects, the CEO said political stability is a key ingredient for a sustainable growth.
"Actually, political stability provides predictability. So we believe that there will be huge growth in the construction sector in the upcoming days." Mr. Shahed observed.
He said that the high cost of capital is now a serious concern in Bangladesh. Small, medium or large enterprises are mainly dependent on bank funds for their financial needs. But, higher borrowing cost puts us under tremendous pressure. We also face internal and external challenges like unscheduled power cuts and shortage of gas and skilled labour - which also push our operating costs up. These situations are causing difficulties for the business community to survive. Bangladesh Bank should bring down the interest rate to a single digit on lending to accelerate the growth of the businesses in the country.
Citing a recent experience on the country's banking system, he said the state-owned banks take a long time to assess and disburse loans. The state-owned banks should expedite their lending procedure.
Mr. Shahed, who had served as head of human resource department at different multinational companies, noted that there is a need for big reforms to attract both local investment and FDIs, which will help generate massive employment for the country.
"We are still behind Afghanistan in terms of the World Bank's ease of doing business index." he lamented.
He suggested that a sustainable real estate with green designs, space optimisation is also required for sustainable development goals. There is also need for consistency in building codes and regulations with its strict enforcement.
Mr. Shahed who joined Partex Star Group as a CEO in 2018, criticised the unplanned use of the jute sticks for producing charcoal. Because not only does it adversely affect the environment, it also badly affects the production of jute stick particle boards and value-added products like veneered boards and flush doors.
He said jute particle boards, veneered boards and flush doors are being used as building materials, especially for interior decoration. These products are perfect substitutes of wood, and demand of these products are gradually increasing. If the production of these products is impeded by lack of jute stick availability then the use of wood will increase, which will cause even more adverse impact on our environment.
He said the countries importing charcoal have already prohibited its manufacturing it their respective countries considering the bad effects. He requested for gracious attention from the government on this issue.
He said, with more than 10,000 employees, the Partex Star group is a team of focused and motivated individuals with an aim to be a development partner of Bangladesh.