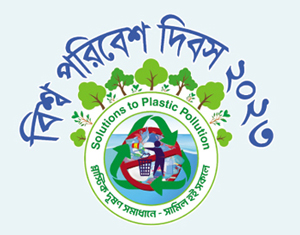 Heatwaves and a fuel shortage for electricity generation to start the 'World Environment Day' week in 2023 have made us wonder how the upcoming days will be. No more doubt that 1.5° Celsius above the average temperature of the pre-industrial level will happen within the next 5 years, according to the most recent data from the World Meteorological Organization (WMO). They also anticipated that heatwaves of this nature would occur more frequently. Another report from WMO says that extreme weather, climate, and water-related events caused 11,778 reported disasters between 1970 and 2021, resulting in over 2 million deaths and US$ 4.3 trillion in economic losses.
World Environment Day has been celebrated globally on the 5th of June since 1973 with the intent to raise awareness on action for various environmental issues, such as marine pollution, overpopulation, global warming, sustainable development, wildlife crime, and so on.
This year marks the 50th year of World Environment Day, and is being celebrated with the focus on beating plastic pollution. In Bangladesh as well, the day will be observed to raise awareness on climate justice as Bangladesh stands as one of the most vulnerable nations to harsh weather, natural disasters, and other types of pollution, including plastic pollution, due to the stress of the current climatic situation.
According to United Nations (UN) data, about 400 million tonnes of plastic are produced globally every year, and only 10 per cent of this staggering amount is recycled. Plastic takes a very long time to degrade, and what is even worse, over 800 aquatic and terrestrial species either ingest or get entangled in plastic, which can lead to their death. Approximately 99 per cent of the plastics we use today are produced by burning fossil fuels such as coal, oil, and gas. Therefore, the production of plastic is inextricably attached to the fossil fuel supply chain.
Single-use plastics and polythene used illegally have contributed greatly to Bangladesh's rising plastic pollution. A World Bank Report in 2021 showed that from 2005 to 2020, urban Bangladeshi plastic use per head increased from 3.0 to 9.0 kg per year. In 2020 alone, we used 977,000 tonnes of plastic, but only 31 per cent of that was recycled. There was a lot of carelessness with single-use plastics, including grocery bags, beverage containers, utensils and snack wrappers. The cities are mostly responsible for generating this large volume of plastics. For instance, Dhaka collects almost 10 per cent of Bangladesh's total waste per day, which is about 646 tonnes of plastic trash. However, the capital city recycles only 37.2 per cent of its plastic trash.
Strong implementation of legislation concerning plastic and positive behavioural changes are important aspects of beating plastic pollution. Window openings for alternatives to plastics and robust use in all possible areas, and environment-friendly entrepreneurship are highly required.
ActionAid and other civil society organisations have long been advocating a just and green transition. We can champion the cause of green, sustainable practices in various ways: by encouraging the 3Rs (Reduce, Reuse, Recycle) practice, use of reusable (glass) water bottles, cloth banners and jute bags, etc.
Apart from the role of fossil fuel in plastic production, fossil fuels originating from coal, oil, and gas are responsible for over 75 per cent of global greenhouse gas emissions and approximately 90 per cent of all carbon dioxide emissions, making them the single biggest contributor to global warming. The burning of fossil fuels for development also triggers the issue of climate change.
In this current situation, more development is connected to more fossil fuel burning, which in turn increases greenhouse gases as a ripple effect. The concentration of carbon dioxide in the atmosphere is approximately 412 ppm (parts per million), which is a record-high figure, and it represents a 47 per cent increase compared to the industrial era. Considering the climate emergency and green transition agenda, the alternative of fossil fuel is being considered; however, investment in fossil fuels is very high, and it will take time to stop fully.
Nevertheless, countries like Bangladesh suffer greatly due to the impact of climate change, which is the result of fossil fuel burning. Although Bangladesh emits less than 0.50 per cent of total greenhouse gas emissions globally, greenhouse gas mitigation has been integrated with the country-level action plan and Nationally Determined Contribution (NDC) as part of the Paris Agreement.
Although Bangladesh has set up a record in Solar Home System installation in rural areas (6 Million), the total electricity generation from renewable energy sources is still low at 4.53 per cent. However, this percentage was supposed to be 10 per cent by 2020.
On the other hand, Bangladesh's current energy and power sector is highly dependent on primary fuel imports. Natural gas and LNG imports account for over half of the country's electricity production. The volatile market of fossil fuels, especially after the Russia-Ukraine War, and the dollar crisis have given clear signs for not depending intensively on fossil fuels in future.
Abundant sunshine, on the one hand, and reduced price of solar technology all over the world, on the other hand, have kept Bangladesh in a better position for leveraging solar-based electricity systems in several forms, like - solar cluster systems in remote areas, large scale solar parks in non-agricultural lands, roof-top systems with net-metering, solar powered power stations for electric vehicles, solar irrigation water pumps for agriculture, solar streetlights, solar power mobile towers, solar power water vehicles and many more promising technologies.
Along with them, the windmill has started to show its footprint in Bangladesh, which is expected to grow in the coming years, considering its potential. Energy-efficient technologies at the household and industrial levels also make space for a better environment and less fuel usage.
The Institute for Energy Economics and Financial Analysis (IEEFA) estimates that over the next 18 years, Bangladesh will need as much as US$1.71 billion per year to wean itself off costly fossil-fuel imports and generate 40 per cent of its electricity from renewable sources. A faster transition will undoubtedly lessen the need for costly subsidies on fossil fuels.
It is the right time to act immediately to achieve a green energy transition. For this, our national budget needs to be climate-inclusive, considering the worsening impacts of climate change. For climate action and energy transition, the allocation of funds must be increased accordingly. Along with government initiatives, the private sector must come forward for the collective fight against climate change and a better environment.
There's no alternative to taking action for a just and green world. We believe that our young people are at the centre of the solution towards plastic pollution, energy transition, climate resilience, and a sustainable environment. And our belief extends to the vision that a climate-resilient Bangladesh will be built through the aspiration of youth in future.
Mohammad Mahmodul Hasan is a Development Professional with 15 years of experience in the field of environment, climate change and renewable energy.