BD denied final after late penalty
Play 1-1 draw with Nepal in SAFF Championship
---
---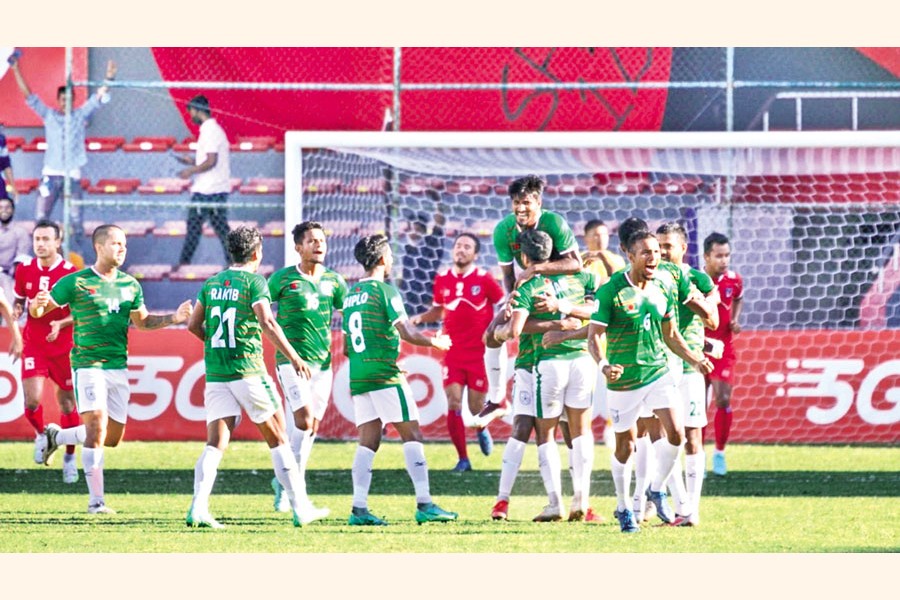 Bangladesh forward Suman Reza celebrating after scoring goal against Nepal in the SAFF Championship at National Football Stadium in Maldives on Wednesday — bdnews24.com
Bangladesh's hope of playing the SAFF Championship final ended when Nepal, came from behind, forced Bangladesh to play 1-1 draw in the crucial match of SAFF Championship held at National Football Stadium in Maldives on Wednesday, reports BSS.
Despite taking early lead, Bangladesh were denied their victory when Nepal staged a fight back in the crucial moment scoring a goal from a penalty booking their ticket of final of the championship.
The Himalaya Kingdom now will play the final match against the day's second match winners' either defending champions India or host Maldives.
The final match of the tournament will take place on October 16 at the same venue.
With the day's outcome, Nepal secured seven points from three matches to move to the final while Bangladesh collected five points playing the same number of matches.
It was the do or die match. In this do or die match for both the teams, Bangladesh had no alternative way but to win the match to go to the final, however, Nepal needed only one point to go through. The Bangladeshi supporters who came to support the Bangladesh team, were eagerly waiting to celebrate the moment but their joy turned to nightmare when Bangladesh conceded the goal two minute before the stipulated time.
There was a festive atmosphere prevailing at the whole stadium as many expatriate Bangladeshi supporters came to support the Bangladesh team. Holding high the Bangladesh flags they chanted 'slogan' 'Bangladesh', 'Bangladesh' from the big bowl. The boys in red and green also did not dismay the crowds as Suman Reza scored the goal in the beginning of the match.
Captain Jamal Bhuiyan took a free kick from the left side of the D-box came in front of Sumon Raza after defecting an opponent player and Reza perfectly sent the ball home with a close header giving Bangladesh a deserving lead in the very ninth minute.
---
---
---
---