---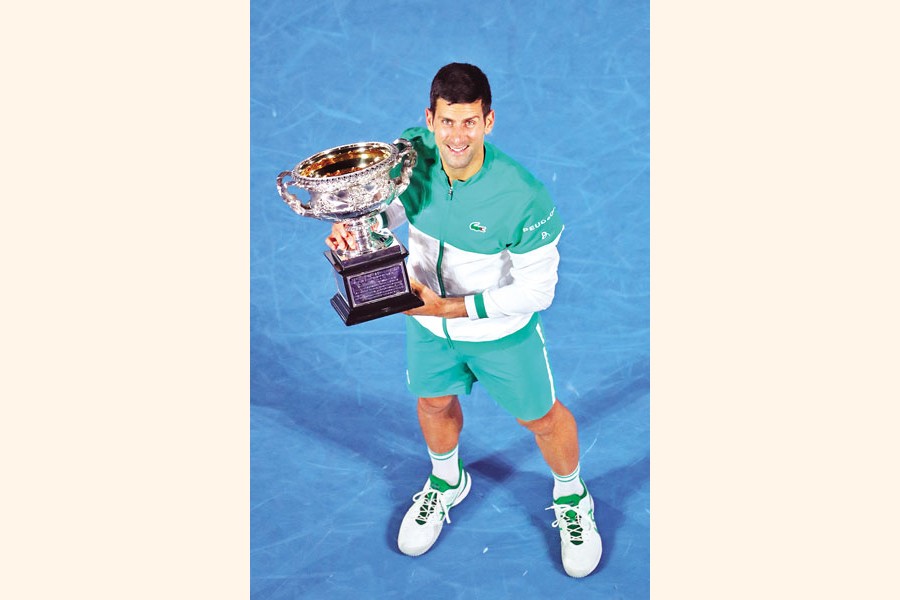 Serbia's Novak Djokovic celebrating with the Norman Brookes Challenge Cup after winning against Russia's Daniil Medvedev in the men's singles final at the Australian Open tennis championship at Melbourne in Australia on Sunday — Reuters
MELBOURNE, Feb 22 (Reuters): A very different Australian Open came to a familiar close on Sunday, with Novak Djokovic crowned champion for a record-extending ninth time and Serbian fans hailing a one-sided win over another would-be challenger in Daniil Medvedev.
The world number one's 7-5 6-2 6-2 win on his favourite court secured his 18th Grand Slam title, bringing him within tantalising reach of Roger Federer and Rafa Nadal's all-time men's record of 20.
With a fortune spent to put on a biosecure tournament amid the Covid-19 pandemic, Djokovic came into the Grand Slam under fire after offending the Australian public for petitioning organisers to ease quarantine conditions for players.
He suffered a painful abdominal injury in the first week and had to manage it through the second.
But those challenges were drowned out in the roars of his fans as he thrashed fourth seed Medvedev in a bearpit atmosphere.
Much like Dominic Thiem in last year's final, Djokovic faced an opponent desperate for a seat at the Grand Slam table.
Unlike Thiem, who pushed Djokovic to five sets, Medvedev never threatened in his second major final.
Djokovic made a mockery of the Russian's 20-match winning streak and his pre-match barb that all the pressure was on the champion.
He broke him seven times and closed out the one-sided contest with a net-rush and a brilliant leaping volley.
Having extended his unbeaten record in nine finals at Melbourne Park, Djokovic bellowed in triumph and wrapped his team in a group hug.
---
---
---
---