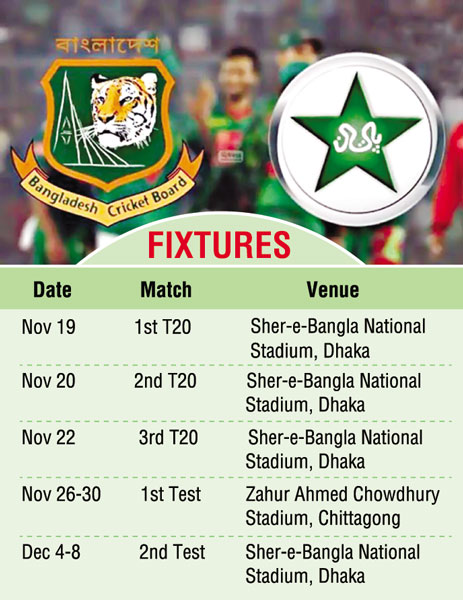 KARACHI, Sept 14 (Agencies): Pakistan on Tuesday announced its national cricket team will tour Bangladesh after a gap of six years to play two Tests and three Twenty20 internationals in November.
"Pakistan will play two World Test Championship matches soon after the ICC Men's T20 World Cup in the United Arab Emirates," said a Pakistan Cricket Board release.
The T20s will be held at Dhaka's Sher-e-Bangla stadium on November 19, 20 and 22.
The two teams will then travel to Chattogram for the first of the two Tests at Zahur Ahmed Chowdhury Stadium from November 26 to 30.
The two teams will return to Dhaka to play the final Test, which will start December 04.
Pakistan have an immaculate record in Tests against Bangladesh with 10 wins from 11 matches. They also enjoy an impressive record in the T20Is against Bangladesh with 10 wins from 12 matches.
Pakistan last visited Bangladesh in 2016 for the Asia Cup. Bangladesh toured Pakistan last year, but the tour was disturbed due to the outbreak of Covid-19 around the world.
During Pakistan's last bilateral visit to Bangladesh, the hosts won the ODI series 3-0 and also the solitary T20, while the visitors won the Test series 1-0. The Test series will be marked as the start of Bangladesh's World Test Championship second cycle.
This series will be Bangladesh's first in the current WTC window, while Pakistan have already kick-started their campaign with one win and one defeat in West Indies. They will head into the away series with an enviable record of having won 10 of their 11 Tests in Bangladesh. Their T20 numbers are equally impressive, with 10 victories in 12 outings there.
The last meeting between Pakistan and Bangladesh took place in January 2020 when Bangladesh toured Pakistan to play three T20Is (one of which was abandoned due to rain) and a Test in Rawalpindi. The second Test of the series, which was supposed to be held in Karachi in April, was postponed due to the Covid-19 pandemic.
Till date, Bangladesh played 11 Tests against Pakistan and lost 10 of them, and one ended in a draw. The Tigers played 12 T20Is against Pakistan and won two of them while losing the other 10 matches.