Agreement on first bio-tech plant signed
US $300 million to be invested
---
---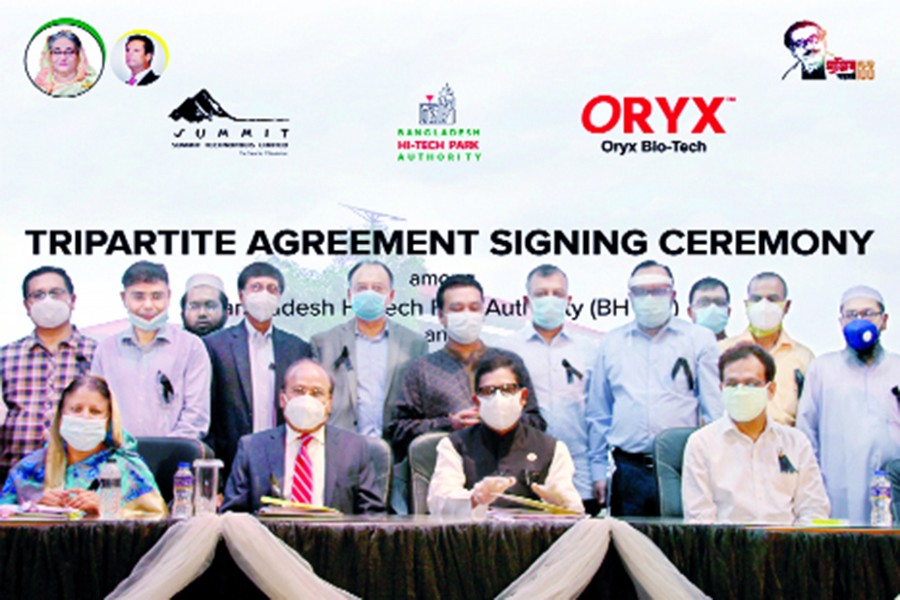 MD of BHTPA Hosne Ara Begum, MD of Summit Technopolis Abu Reza Khan and MD of Oryx Biotech David Bo signed a tripartite agreement for setting up Bangladesh's first Bio-tech industry at Summit Technopolis in presence of State Minister, Ministry of Power, Energy and Mineral Resources (MPEMR) Nasrul Hamid and ICT State Minister Zunaid Ahmed Palak at BCC Auditorium in the city on Tuesday.
A tripartite agreement was signed between Oryx Bio-Tech Limited, Bangladesh Hi-Tech Park Authority (BHTPA) and the Summit Technopolis Limited in the city on Tuesday to set up the first bio-tech plant in the country with an investment of US $300 million.
The Oryx Limited will develop the factory on 25 acres of land at the Bangabandhu Hi-tech City in Gazipur, which is expected to create high value employment for nearly 2,000 people.
Hosne Ara Begum, Managing Director of the BHTPA, and Abu Reza Khan, Managing Director of Summit Technopolis, inked the agreement at a ceremony at the ICT tower at Agargaon in the city while David Bo, MD of the Oryx Limited, signed it virtually.
Summit Technopolis developed the land for the Bangabandhu Hi-tech City.
State minister of Power, Energy and Mineral Resources Nasrul Hamid joined the event virtually as the chief guest, while state minister for ICT Zunaid Ahmed Palak presided over the ceremony at the ICT Tower.
Muhammed Aziz Khan, Chairman, Summit Group, and N M Zeaul Alam, Senior Secretary to the ICT Division, were present as special guests.
According to the investment proposal, the bio-tech venture will facilitate manufacturing of drugs for the treatment of critical diseases like cancer and different types of infections.
The company will establish the factory with the handling capacity of around 1,200 tonnes of plasma for manufacturing import substitute and life-saving biomedicine and derivatives.
The company will also set up some 20 plasma collection stations.
Speaking on the occasion, Nasrul Hamid lauded the role of the ICT division for its contribution to the development of technological solutions to the tracking of Covid-19 patients and telemedicine.
---
---
---
---