Apex Foods topped the list of the losers on Monday just after reporting a whopping 148 per cent growth in earnings per share (EPS) and 20 per cent cash dividend for the fiscal 2021-22.
The stock fell 13.68 per cent, or Tk 43.10, to Tk 271.80 against the backdrop of, market insiders say, a selling pressure to avoid loss.
A market operator wishing not to be named said Apex Food rallied before the dividend declaration, and that might be the reason behind the price correction.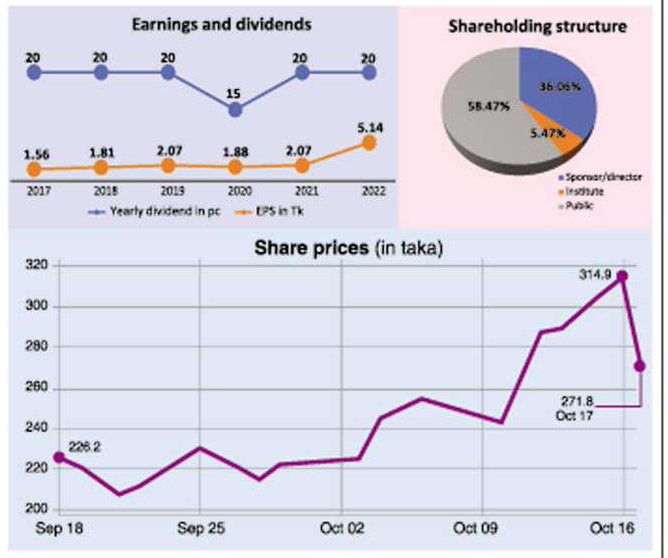 The stock closed at Tk 207.90 on September 21, 2022. Later on, it exhibited an upward trend. The share price jumped to Tk 314.90 on Sunday following a 34 per cent rise in just 15 sessions.
The fear among investors of price corrections played a role.
In the depressing market, a large number of companies with good fundamentals have failed to draw buyers, said a senior trader of Modern Securities.
"Many investors are not willing to hold shares for long. Secondly, many companies' trades get stuck at floor prices," he said requesting anonymity.
Around 200 listed companies, including good performers, have no buyers, which is why a company sees price correction after dividend declaration.
Apex Foods has reported earnings per share of Tk 5.14, increased from Tk 2.07 a year ago.
The company has also achieved 44.94 per cent gain in the net operating cash flow per share to Tk 62.14 in the year ending June 30, 2022.
The positive financial outcomes prompted the company's board of directors to recommend 20 per cent cash dividend.
Nevertheless, many investors offloaded their holdings intensifying price correction of the stock.
On Monday, more than 0.64 million shares of the company changed hands through 3,913 trades executed on the Dhaka Stock Exchange.
In a clarification posted on the website of the premier bourse, the company said its EPS rose because its revenue increased amid the global upturn in the retail product, particularly food items.
Efficient management and cost minimization also contributed to the remarkable increase in earnings per share, the company said.
Md Moniruzzaman, managing director of IDLC Investments Limited, said some stocks had faced selling pressure from foreigners before getting stuck at floor prices.
"Presently, foreigners are also unable to offload holdings as the companies got stuck at floor prices." Many other companies do not have buyers as investors fear further price corrections, Moniruzzaman added.
Apex Foods, an 'A category' company, was listed on the stock exchange in 1981.