---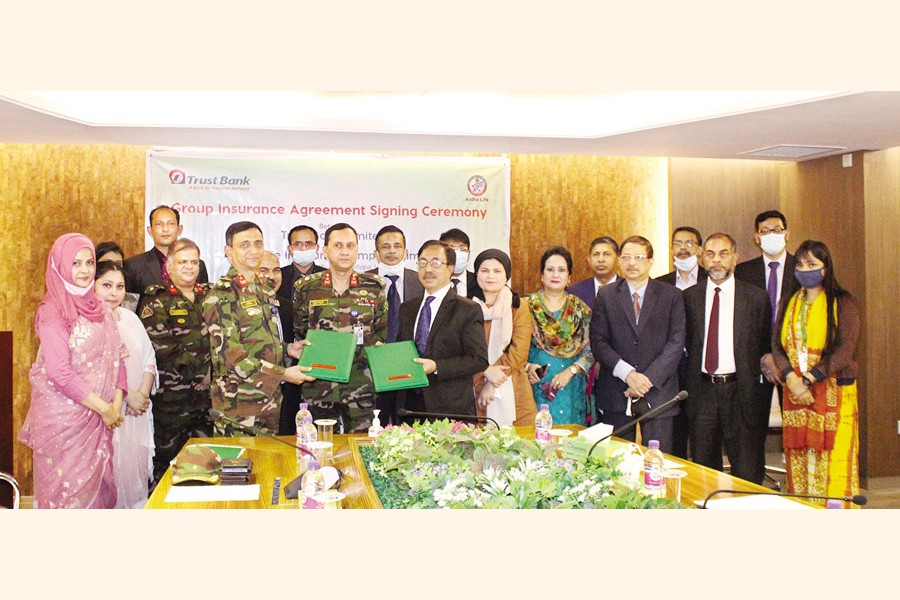 Director of Trust Bank Brig Gen Abul Mansur Md Ashraf Khan, Managing Director of Astha Life Insurance Company Brig Gen Md. Monirul Gani, Managing Director of Trust Bank Faruq Mainuddin Ahmed and other officials seen at the signing ceremony of an agreement on group term life insurance held at the bank's head office recently
The Astha Life Insurance Company Limited and the Trust Bank Limited signed an agreement on group term life insurance in the city recently, says a statement.
Under the contract, the staffs of Trust Bank and their dependents will enjoy various life and health coverage from Astha Life Insurance Company Ltd.
Brig Gen Abul Mansur Md Ashraf Khan, director of Trust Bank and managing director of Army Welfare Trust, was present as the chief guest at the signing ceremony held at the bank's Head office.
Managing Director of Trust Bank Faruq Mainuddin Ahmed and other senior officials were also present. On behalf of Astha Life Insurance, Managing Director Brig Gen Md. Monirul Gani along with other senior officials were present.
---
---
---
---