---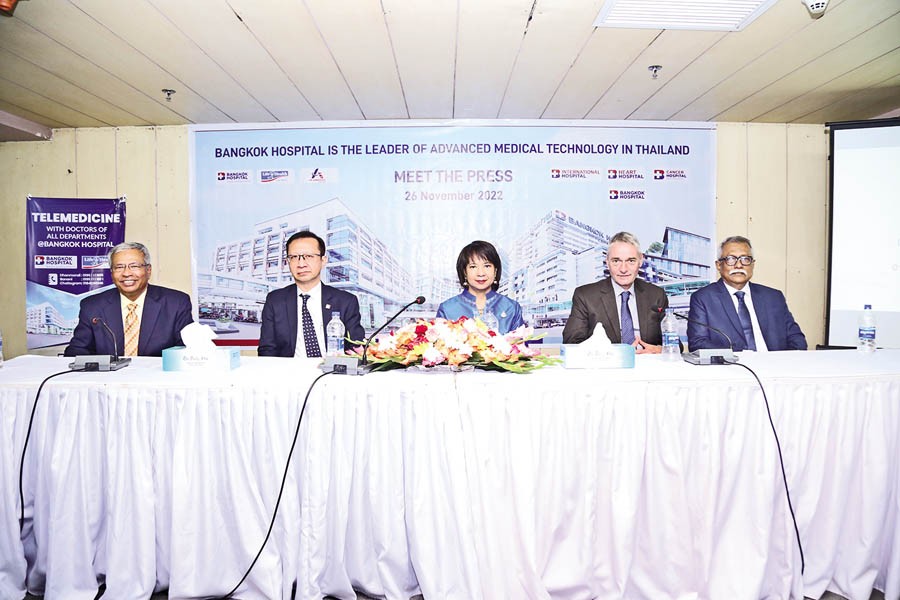 Bangkok Hospital Bangladesh Office held a 'Meet the Press' in Dhaka on Saturday, with Thai ambassador Makawadee Sumitmor as the chief guest. Dr Shakti R Paul, Internal Medicine Specialist and Advisor of Bangkok Hospital, and Dr Kriengkrai Hengrussamee, Director of Bangkok Heart Hospital, were also present.
Bangkok Hospital has become the leader of advanced medical technology in Thailand and it has recently added Healthcare Intelligence Service System, including Artificial Intelligence (AI)-driven precision medical image diagnosis.
Speakers said this at a 'Meet the Press' hosted by Bangkok Hospital Bangladesh Office in Dhaka on Saturday, says a press release.
Thai ambassador Makawadee Sumitmor was present as the chief guest and spoke about medical tourism in Thailand.
The Bangkok Hospital Headquarter (BHQ) leads 49 network hospitals in Thailand and neighbouring countries. Established in 1972, it offers world class tertiary level care for severe and complicated illnesses. It is internationally certified by the Joint Commission International (JCI Accredited) and ranked No. 1 Private Hospital in Thailand by Newsweek World's Best Hospitals in 2020.
Bangkok Hospital Office Bangladesh is the exclusive representative of BHQ in Bangladesh with their three offices in Dhanmondi, Banani and Chattogram.
Dr. Shakti R Paul, Internal Medicine Specialist and an Advisor of Bangkok Hospital, and Dr. Kriengkrai Hengrussamee, Director of Bangkok Heart Hospital, who were present at the press conference, highlighted the services and technological advancement of the hospital.
Bangkok Hospital (BHQ) is where advances in medicine meet with compassion through advanced technology and integrated care with Thai hospitality, they said.
BHQ campus includes Bangkok Heart Hospital, Bangkok Cancer Hospital, Bangkok International Hospital (Neurology & Orthopedics) with specialists of all major fields of healthcare.
Being the headquarters of the largest network in Southeast Asia, BHQ is technologically the most advanced hospital; many of its technologies are unique and not available in any other hospitals in Thailand.
Bangkok Heart Hospital's technology includes CT Angiogram-256 slices, MRI-3.0 Tesla, Cardiac MRI-3.0 Tesla, Open MRI-1.0 Tesla, Cartosound for Arrhythmia.
Bangkok Cancer Hospital has 4th generation mCT Flow PET-CT for accurate cancer diagnosis, Varian Edge-the new era of Radiotherapy and Radiosurgery that makes it possible to treat brain tumor without surgery.
Bangkok International Hospital (Neurology and Orthopedics) uses O-arm technology for precision in spinal surgery.
Bangkok Academy of Sports and Exercise Medicine (BASEM) is the only FIFA accredited professional sports medicine center in South & South-East Asia adhering to international standards.
The hospital also provides Telemedicine services across all departments which immensely benefitted a big number of Bangladeshi patients during Covid-19 Pandemic, said the speakers.
Ralf Krewer, Business Development Director of BHQ, Patcharin Talanon, Marketing Communication Specialist, and Shirong Guan, International Marketing Officer, joined the press conference.
Dr. Nilanjon Sen, Managing Director, Kazi Sharhan Saif, Executive Director, and Mohammad Shohid, Operations Director of Bangkok Hospital Office Bangladesh were also present.