Bank Asia to expand agent banking
Each village will be included within next 5 years
---
---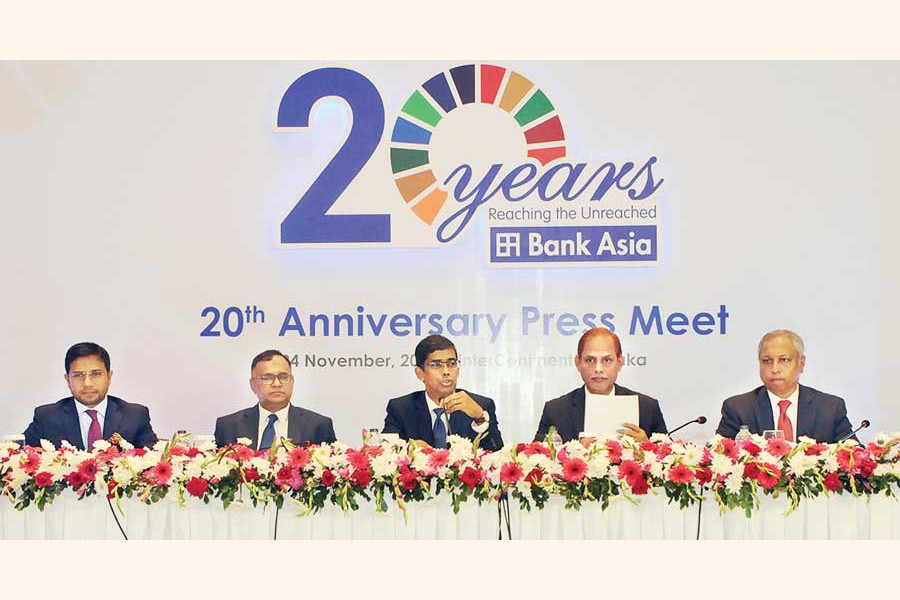 Md. Arfan Ali (middle), president and managing director of Bank Asia, addressing a press briefing on Sunday
Bank Asia Limited has planned to expand its agent banking initiative in each village of Bangladesh within the next five years, the bank's top executive said on Sunday.
The leading private commercial bank (PCB) has also decided to diversify its investment portfolios focusing retail and small and medium enterprises (SME) instead of corporate one in the next five years.
Under the latest strategies, the investment in retail and SME will rise to 50 per cent of its total loans and advances during the period under review from the existing level of 35 per cent while the investment in corporate entities will come down to 50 per cent from the existing level of 65 per cent.
"We'll re-fix the ratio of investment in retail and SME sectors and corporate entities at 50:50 within the next five years," Md. Arfan Ali, president and managing director of the Bank Asia, disclosed while sharing his future plans for boosting financial inclusion programmes in the coming years at press meet programme on Sunday.
The third generation PCB organised the press meet programme at a city hotel on the day just three days before the bank's 20th anniversary.
The Bank Asia started its journey on November 27, 1999 to materialise the dream of a group of successful and renowned entrepreneurs of the country with a mission to assist in bringing high quality service to the customers and to participate in the growth and expansion of national economy, the MD explained.
In 2014, the Bank Asia introduced agent banking services for the first time in Bangladesh aiming to help minimise the social inequality through empowering particularly the small and vulnerable income groups across the country.
Bank Asia has already collected more than Tk 12 billion so far as low-cost deposit mostly from rural people through setting up 3317 agent banking points across the country.
"We're now working relentlessly with the vision that every adult in our country will have a bank account; every village in our country will have a financial kiosk," Mr. Ali noted.
The Bank Asia introduced different innovative products and services for both conventional and Shariah-based Islamic banking since its inception to help achieving sustainable economic growth through bolstering financial inclusion activities, the senior banker added.
---
---
---
---