---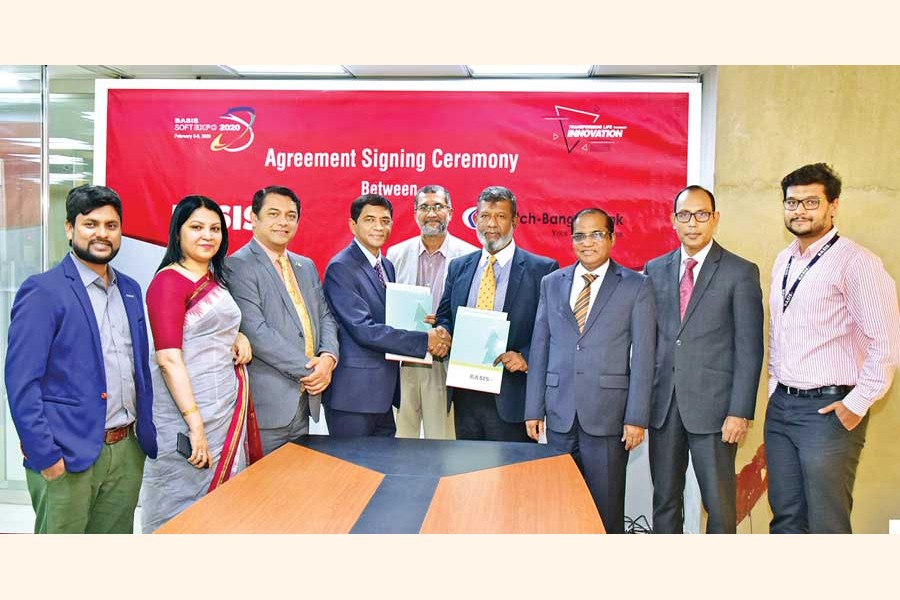 Abul Kashem Md. Shirin (3rd from right), DBBL Managing Director & CEO and Md. Ahteshamul Haque Khan (2nd from right), Chief Operating Officer of DBBL, witnessing the signing ceremony between DBBL and BASIS.
The four-day long BASIS SoftExpo 2020 begins February 6 at International Convention City Bashundhara (ICCB).
'Transforming Life Through Innovation' is the theme of the event. BASIS SoftExpo 2020 will be held in a wider spectrum to become one of the largest ICT expositions in this region.
Syed Almas Kabir, president of Bangladesh Association of Software and Information Services (BASIS) said BASIS SoftExpo will help the local IT companies to expand their businesses. A total of 300 exhibitors will participate to showcase the capability of local software companies in the international arena.
The event will be a congregation of ICT companies, personalities, key policymakers, industry leaders and other ICT stakeholders.
Meanwhile, a MoU was signed between Dutch Bangla Bank Limited-DBBL and BASIS in this regard on Monday.
DBBL Managing Director & CEO Mr. Abul Kashem Md. Shirin, Chief Operating Officer Md. Ahteshamul Haque Khan and First Vice President Mir Mominul Huq were present.
On behalf of BASIS, BASIS President Syed Almas Kabir, Senior Vice President Farhana A Rahman, Vice President (Admin) Shoeb Ahmed Masud, Vice President (Finance) & Convener of BASIS SoftEXpo 2020were present.
The DBBL Managing Director & CEO said, expansion and development of the local ICT sector is the sine qua non for building a Digital Bangladesh.
The local ICT sector has been contributing from the very beginning to the development of Digital Bangladesh. The motto of BASIS SoftExpo is to uphold the capability of the local ICT sector. Besides, stakeholders of the ICT industry will take part in the SoftExpo.
Convener of BASIS SoftExpo 2020 Mushfiqur Rahman said : We are progressing towards the pathway of Digital Bangladesh and our local market has been expanding. That's why we have included new zones. Women Zone has been added to inspire women entrepreneurs. For students, there will be CV Box in every exhibiting stall. This year we have received a tremendous response from all over Bangladesh.