BB working to enable Islamic banks to participate in repo, reverse repo operations
Economic affairs adviser to the Prime Minister tells an int'l workshop
---
---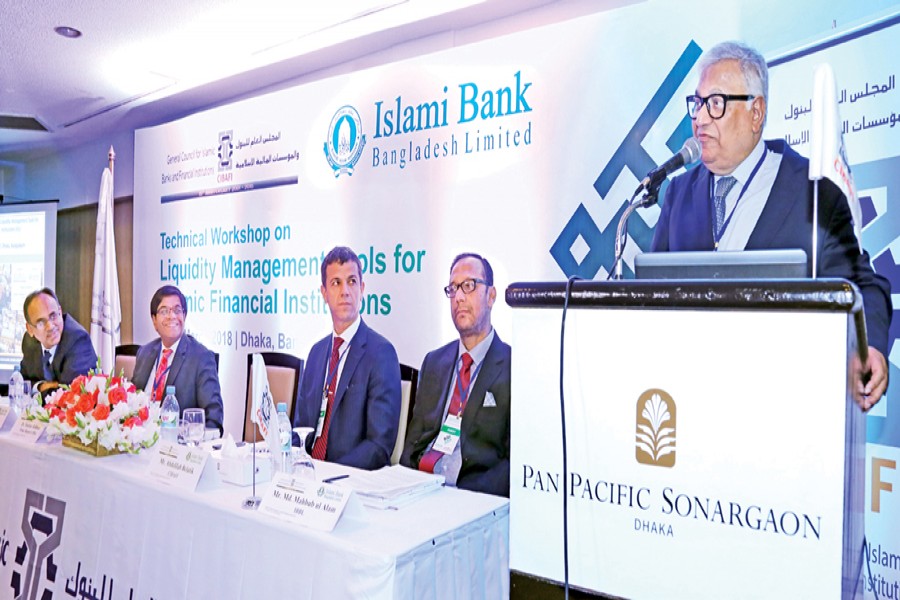 Dr. Mashiur Rahman, economic affairs adviser to the Prime Minister addressing the opening session of the two-day international technical workshop titled 'Liquidity Management Tools for Islamic Financial Institutions' which began Wednesday at Pan Pacific Sonargaon
Economic affairs adviser to the Prime Minister Dr. Mashiur Rahman Wednesday said Bangladesh Bank is working to develop instruments such as Islamic Treasury Bills, Government Ijarah Sukuk, etc to enable Islamic banks to participate in repo and reverse repo operations.
Addressing a two-day international technical workshop titled 'Liquidity Management Tools for Islamic Financial Institutions' which began on the day, the adviser said Islamic banking industry in Bangladesh through its Shariah compliant banking activities has been contributing to economic growth of the country and towards realising the vision of the Government to achieve higher middle income status by 2021.
Islami Bank Bangladesh Limited and General Council for Islamic Banks and Financial Institutions (CIBAFI) jointly organised the event, said a statement.
The adviser to the Prime Minister's Economic Affairs inaugurated the workshop at Pan Pacific Sonargaon on the day as the chief guest.
Presided over by Arastoo Khan, Chairman of Islami Bank Bangladesh Ltd, the programme was attended by Abdelilah Belatik, Secretary General, CIBAFI as guest of honor and Abdur Rouf Talukder, Acting Secretary, Ministry of Finance as special guest. Md. Mahbub ul Alam, Managing Director and CEO of Islami Bank addressed welcome speech. Researchers and top executives from various local and foreign banks and financial institutions participated in the workshop.
Arastoo Khan in his speech said, liquidity management is critically important for every financial institution. Although there are different instruments for liquidity management for conventional banks and financial institutions, there is not enough separate financial instruments for Islamic banks and financial institutions, he added.
He called upon the concerned to introduce Islamic Financial Tool 'Sukuk' for Islamic banks and financial institutions in Bangladesh.
Other speakers said, Islamic banking industry is fast growing in the world. There has been significant growth in the last decade. In keeping pace with the global Islamic financial development, they urged the researchers to introduce new Shari'ah-based instruments in the money market of Bangladesh.
---
---
---
---