BD-Iraq direct air link may boost trade
Iraqi business delegation says in meeting with DCCI
---
---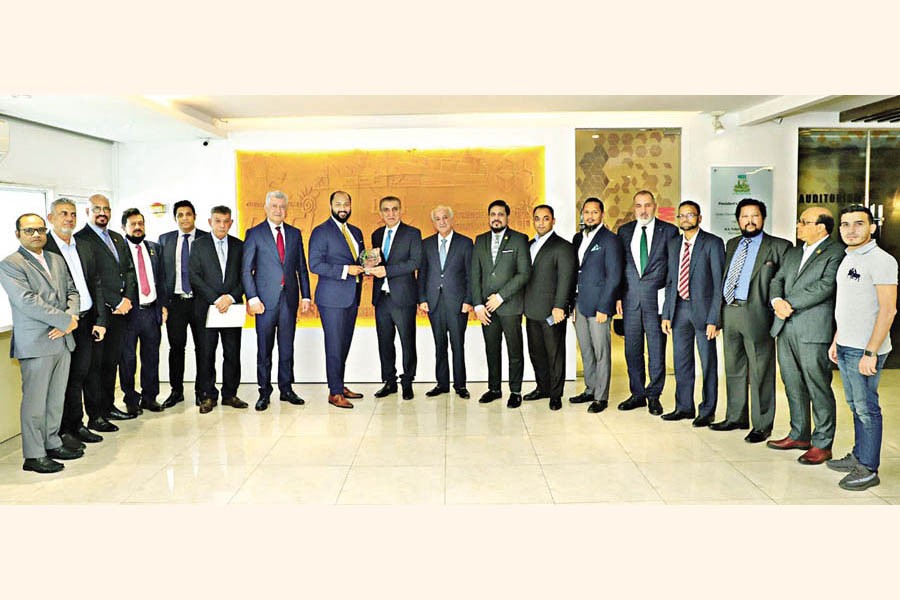 A business delegation from Sulaimany Chamber of Commerce & Industry in Iraq, led by its Chairman Seerwan Mohammed Mahmood, held a meeting with DCCI President Rizwan Rahman and other DCCI leaders at the DCCI office in the city on Wednesday.
Direct air communication between Dhaka and Baghdad can significantly boost bilateral trade as Bangladeshi products have good prospects in Iraqi market, a member of a visiting business delegation from Iraq said on Wednesday.
The delegation members also said Bangladeshi readymade garment (RMG) products can make space in Iraqi market while businesses from Iraq can establish joint ventures in sectors like pharmaceuticals and leather in Bangladesh.
The delegation from Sulaimany Chamber of Commerce & Industry (SCCI) in Iraq made the remarks during an interactive business meeting with Dhaka Chamber of Commerce and Industry (DCCI) at the DCCI office in the city.
SCCI Chairman Seerwan Mohammed Mahmood led the six-member delegation at the meeting presided over by DCCI President Rizwan Rahman. DCCI Vice President Monowar Hossain was also present.
DCCI President Rizwan Rahman said the bilateral trade between Bangladesh and Iraq in FY 2020-21 stood at US$ 57.23 million.
However, there is a huge trade deficit with the Western Asian country as Bangladesh imported over $53.43 million worth of products from Iraq while its export was about only $3.8 million, he noted.
He suggested that Iraq can import vegetables, potato and mango as well as ICT-related services from Bangladesh.
Signing an agreement between the two countries to avoid double taxation can encourage investments in diversified manufacturing and service sectors, Mr Rahman pointed out.
He also invited Iraqi investors to invest in economic zones and urged them to hire skilled workforce from Bangladesh.
SCCI Chairman Mr Mahmood said that Bangladesh's RMG sector may have a good prospect in Iraq while smoother communication like direct air flight between Dhaka and Baghdad can boost bilateral trade.
He suggested signing a Memorandum of Understanding (MoU) between DCCI and SCCI for bilateral trade development.
He said Iraqi investors are interested in setting up joint ventures in the pharmaceutical sector in Bangladesh while they also have keen interest in leather sector.
---
---
---
---