Shohoz, the largest online destination in the country, has been featured on CB Insights Startup Continent as Bangladesh's number 1 well-funded startup.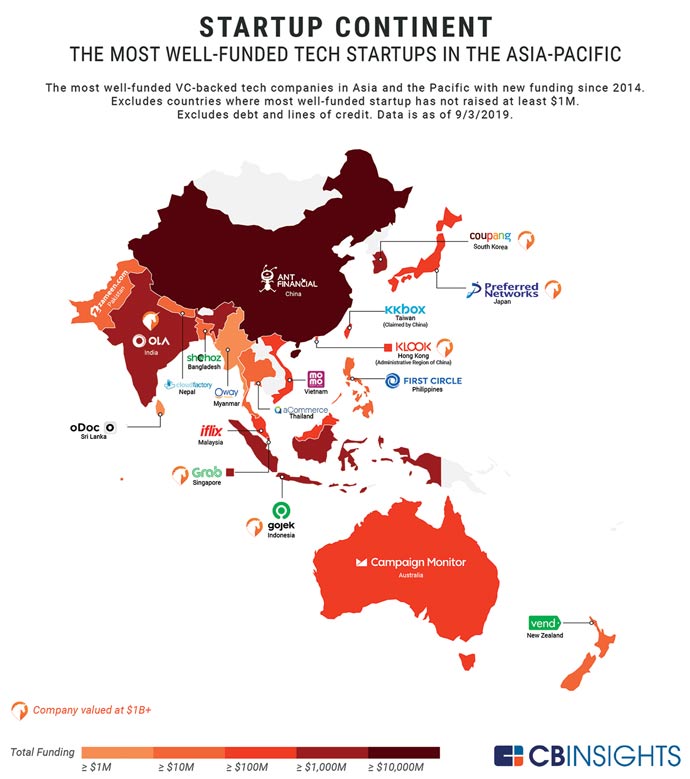 The startup had started as an online ticketing platform, and now it has expanded its operation to ride-sharing and food delivery services with massive success, according to a statement.
Companies that have raised a minimum of USD 1.0 million and raised any amount of equity funding since January 2014 has been considered for the list. While the list focuses on the recent round of funding raised by Shohoz, it is worth mentioning that the company has raised a sizable amount of funding previously as well.
The Asia and the Pacific region is home to 19 countries or regions in which the most well-funded tech startup has raised at least USD 1.0 million in funding.
Five companies have raised more than USD 1.0 billion, and only Ant Financial has raised more than USD 10 billion in total equity funding.
Shohoz has raised USD 15 million funding from Singapore-based investment firm Golden Gate Ventures. As of yet, it is the largest disclosed funding round for any Bangladeshi tech company. The least well-funded startup on the map is Sri Lanka-based oDoc, which has raised USD 1.1 million in seed funding.
Maliha M Quadir, Founder & Managing Director, Shohoz said, "Shohoz is backed by global institutional investors and prominent Angels, who believe in the story of Bangladesh - a country of 160 million young, passionate and hard-working people. It is also a country of responsible entrepreneurs, with a track record of promoting growth through technology and access to finance. Collectively, we believe in the government's vision of a Digital Bangladesh. We are rapidly emerging as a role model of inclusive growth in emerging economies."
She added, "Shohoz means "Easy" in Bengali. I started Shohoz with a simple vision of making lives easier by solving the logistics challenges in Bangladesh. I can proudly say that we touched 15 million people through our online ticketing, rides, and food delivery services. But, our journey has just started. We want to bring more products and services online. We want to set the bench-mark for excellence in user experience. We want to inspire and empower our employees; and be the company that everyone wants to work for. Our vision is to be the largest one-stop destination for all essential services online"