Investors' participation in trading of big-cap stocks, Grameenphone and Square Pharmaceuticals for example, has fallen significantly in the last three months.
During the same period, small-cap companies saw share transactions in high volumes.
Apart from posting high turnover, the small-cap stocks have exhibited unusual price increases while big companies have remained stuck at floor prices.
For example, the market leader Garmeenphone posted a daily average turnover of Tk 0.09 million in the five sessions last week.
On the other hand, a small-cap company, Gemini Sea Food recorded a daily average turnover of Tk 184.57 million.
The share price of Gemini advanced 12.10 per cent to Tk 528.20 in the five sessions. Grameenphone did not move from its floor price of Tk 286.60 since September 22, 2022.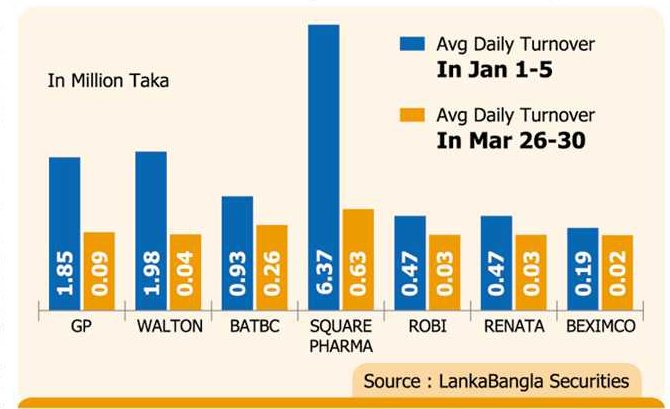 Investors' participation stayed low in trading of other market leaders in terms of market value, such as Walton Hi-Tech Industries, British American Tobacco Bangladesh, Square Pharmaceuticals, and Robi Axiata.
Managing Director of Midway Securities Md. Ashequr Rahman said the floor price is an impediment to a rise in investors' participation in large-cap companies.
If the floor price is withdrawn, these companies may see price erosion but they will also bounce back quickly due to their fundamental strength, he said.
Price erosion of companies with weak fundamentals will eventually be much higher than that of big companies, said Mr Rahman. "Nevertheless, traders are participating in sell-buy of such shares based on speculations."
Square Pharmaceuticals posted a daily average turnover of Tk 6.37 million in January 1-5 this year. Last week, the figure was Tk 0.63 million.
Its share price has been languishing at the floor price of Tk 209.80 since the third week of September last year.
The share price of Walton Hi-Tech Industries has remained at Tk 1047.70 each since August 22; Beximco at Tk 115.60 since November 6; Renata at Tk 1217.90 since November 13; Robo Axiata at Tk 30 since August 4, and United Power Generation and Distribution Company at Tk 233.70 since October 18, 2022.
High volumes of share transactions and price surges also helped small companies gain positions at the top gainers' chart since the first week of January.
The share price of Legacy Footwear jumped 32.38 per cent last week with average daily turnover recorded at Tk 57.42 million.
Of other companies, Intech saw a price hike of 30.66 per cent and a daily average turnover of Tk 19.15 million last week.
Tosrifa Industries and Bangladesh Autocars were on the chart of weekly top gainers. Their average turnover values were much higher than that of the market leaders.
Large-cap stocks used to play a vital role in boosting the exchange's turnover volume.
Managing director of IDLC Investments Md. Moniruzzaman said many investors seek overnight profits, which is why they invest in speculative scrips.
Some market operators also join the chase after speculative scrips following their upward movement "for the sake of their survival amid the dry situation in the market," Moniruzzaman said.
Due to overall low investor participation, the Dhaka Stock Exchange (DSE) has seen daily turnover going far below from Tk 10 billion since January 3. The turnover value posted by the DSE was even below Tk 3 billion in many sessions.
Some large-cap companies, however, posted higher transactions than their peers. For example, Unique Hotel & Resorts PLC posted an average daily turnover of Tk 312 million last week.
Daily transactions of shares of Berger Paints amounted to Tk 3.65 million on average last week. The amount was Tk 2.49 million in the first week of January.