Stocks extended the losing streak for the second straight session Wednesday as investors released their holding amid growing macroeconomic worries.
DSEX, the key index of the Dhaka Stock Exchange (DSE), went down by 30.68 points to settle at 6,325. The key index lost over 42 points in the past two days after Eid vacation.
Turnover, the crucial indicator of the market, stood at Tk 7.02 billion, which was 3.40 per cent higher than the previous day's tally of Tk 6.79 billion.
Analysts said the market outlook remains gloomy as investors are concerned about several macroeconomic issues such as energy crisis due to gas shortages, inflationary pressure and depreciating local currency.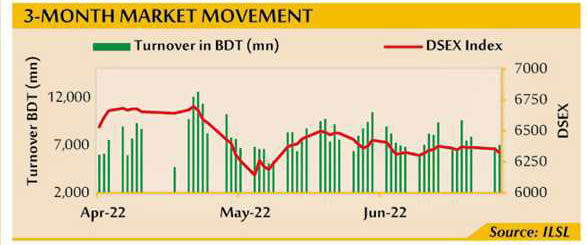 "Investors were anxious over the country's macroeconomic cues," said a merchant banker, seeking anonymity.
He noted that the ongoing bearish sentiment made investors cautious while the news of foreign-exchange reserves fell below $40 billion after two years, keep them nervous.
"The market outlook is still bleak, in the absence of any major trigger," said EBL Securities.
Investors were cautious due to the prolonged pessimism on the bourse, as their concerns spiraled by the news that foreign currency reserves dropped below $40 billion-mark after two years, said the stockbroker.
According to International Leasing Securities, the risk-averse investors continued their sell-off amid growing macroeconomic worries fueled by power cuts in the several regions due to the supply shortage of natural gas, inflationary pressure and unfavorable exchange rate movement.
Five large-cap stocks such as Robi, Grameenphone, Beximco, Beacon Pharma and Beximco Pharma jointly accounted for 20 points fall of DSEX, according to amarstock.com, a market data analyst.
Meanwhile, junk stock Meghna Condensed Milk was the top gainer, posting a 9.56 per cent gain despite the company incurred huge losses and not giving dividends for a long time.
Junk stocks have also frequently featured on the top gainers' list in the recent weeks, bringing into question investors' preference for such shares despite their poor financial performance.
A company's stocks are termed as junk when its commercial production is shut for six months in a row, fail to arrange annual general meetings on time or fail to provide dividends to shareholders.
Meghna Condensed Milk, which was listed on the DSE in 2001, failed to declare dividends over the years.
The company incurred a net loss of Tk 132.17 million for the year ended on June 30, 2021 while the company's current liabilities exceeded its total assets by Tk 442.14 million.
Two other indices ended lower. The DS30 Index dropped 11.18 points to close at 2,273 and the DSES Index shed 7.91 points to finish at 1,378.
Major sectors suffered losses with the textile sector losing the most of 1.20 per cent after gaining 2.0 per cent in the previous day. It was followed by cement with 1.10 per cent, telecom 0.90 per cent, pharma 0.40 per cent, financial institutions 0.30 per cent, power 0.30 per cent and banking 0.20 per cent.
However, the investors' activities were mostly focused on the textile sector, capturing 14.70 per cent of the day's total turnover, followed by engineering (10 per cent) and financial institutions (9.7 per cent).
Losers took a strong lead over the gainers as out of 381 issues traded, 259 declined, 77 advanced and 45 remained unchanged on the DSE trading floor.
Fortune Shoes was the most-traded stock with shares worth Tk 498 million changing hands, closely followed by Beximco (Tk 420 million), IPDC Finance (Tk 353 million), Titas Gas (Tk 342 million) and Delta Life Insurance (Tk 332 million).
The Chittagong Stock Exchange (CSE) also finished lower with the CSE All Share Price Index - CASPI -losing 72 points to settle at 18,615 and the Selective Categories Index - CSCX -shedding 43 points to close at 11,155.
Of the issues traded, 177 declined, 61 advanced and 32 issues remained unchanged on the CSE.
The port city's bourse traded 8.10 million shares and mutual fund units with turnover value worth Tk 224 million.