BRAC Bank has become the first ever Bangladeshi bank to have achieved an ISO certification for its standard of management of security operations.
With this certification, known as ISO 18788:2015, BRAC Bank is now all set to ensure the highest security measures amidst the growing importance of cyber security in the financial sector, said a statement.
The ISO 18788:2015 standard provides a framework for establishing, implementing, operating, monitoring, reviewing, maintaining and improving the management of security operations. This certification will also help BRAC Bank gaining more customer trust for their banking needs.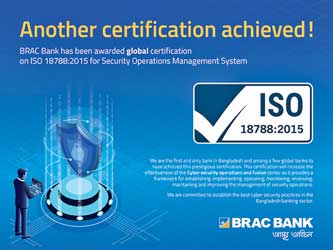 BRAC bank is also the first Bangladeshi bank that was certified with ISO 27001:2013 in recognition of its compliance with the highest standards in developing and implementing an Information Security Management System to protect customers' data and maintain the security of stakeholders' information assets in 2017.
BRAC Bank was also the first among the banks in Bangladesh to have established a 24x7 security operations center (SOC) in 2018 and fulfilled this cyber security mandate of Bangladesh Bank.
The ISO 18788:2015 for Cyber Security Operations and Fusion Center will also enable the bank to effectively manage the SOC.
Commenting on the achievement, the bank's Managing Director and CEO Selim R. F. Hussain said, "We are delighted to have received the ISO 18788 accreditation. BRAC Bank is driven by a clear vision - to be the best bank in the country. In order to become the best, our focus is on making ourselves better on compliance and customers' banking experience. In order to ensure secured and seamless digital customer experience, it is important that we become resilient to cyber threats, demonstrate strong commitment towards data protection and maintain the confidentiality and integrity of data and information assets. The certification is a key milestone in our digital transformation journey".
ISO 18788:2015 certification directly contributes to 16th goal of the sustainable development goals (SDGs) in the area of Peace, Justice and Strong Institutions.