---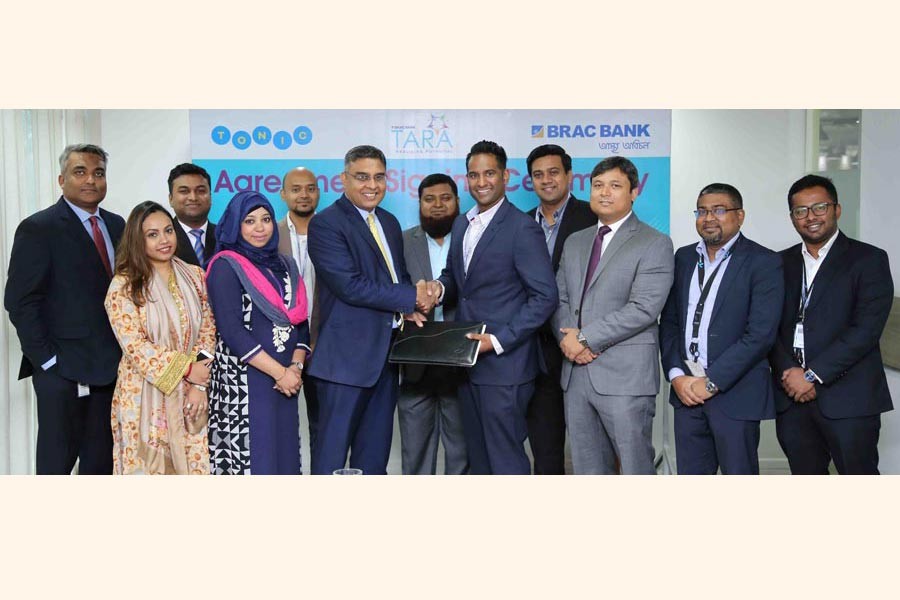 Officials of BRAC Bank Limited and Telenor Health exchanging documents after signing a Memorandum of Understanding on behalf of their respective organisations at the bank's head office recently. Under the agreement, the TARA Loan customers of Retail and SME Segment and TARA Platinum credit cardholders of BRAC Bank Limited will enjoy TARA-Tonic package, Telenor Health's health care service and all benefits of Tonic Asha Package with free subscription for 12 months
BRAC Bank Limited signed a Memorandum of Understanding with Telenor Health at the bank's head office recently, according to a statement.
Under the agreement, the TARA Loan customers of Retail and SME Segment and TARA Platinum credit cardholders of BRAC Bank Limited will enjoy TARA-Tonic package, Telenor Health's health care service and all benefits of Tonic Asha Package with free subscription for 12 months. The offer will be effective from December 15, 2018 onwards.
Keith De Alwis, Chief Technology Officer (CTO), Mobydur Rahman, Head of B2B, Loyalty & Partnership, Mahabubul Islam Chowdhury, Head of Commercial Development, Mahmud Afsar, Lead Manager, B2B Sales, & Saif Abdullah, Key Account Manager, B2B Sales from Telenor Health, and Nazmur Rahim, Head of Retail Banking, Dewan Imteaz Ahmed, Head of Retail Lending, Mehruba Reza, Senior Product Manager, Women Banking Segment TARA, and Shajed Al Haque, Senior Manager, Business Transformation, Emerging Corporate, and other officials were present in the ceremony.
The TARA Loan customers will enjoy the following facilities from now onwards free for 12 months:
Up to Tk 40,000 cash coverage to be availed 10 times in a year and this will be credited to the customer's TARA account.
Tk 1,600 exclusive cash back for TARA customers on selected diagnostic test and specific doctor consultation. Up to 50 per cent discount at 200+ hospitals, diagnostic centers and life style outlets countrywide.
TARA customers can talk directly with Tonic Doctors at 20000 for any medical needs 24/7 with 10 minutes free per month. They will get 8 important tips every month through SMS.