---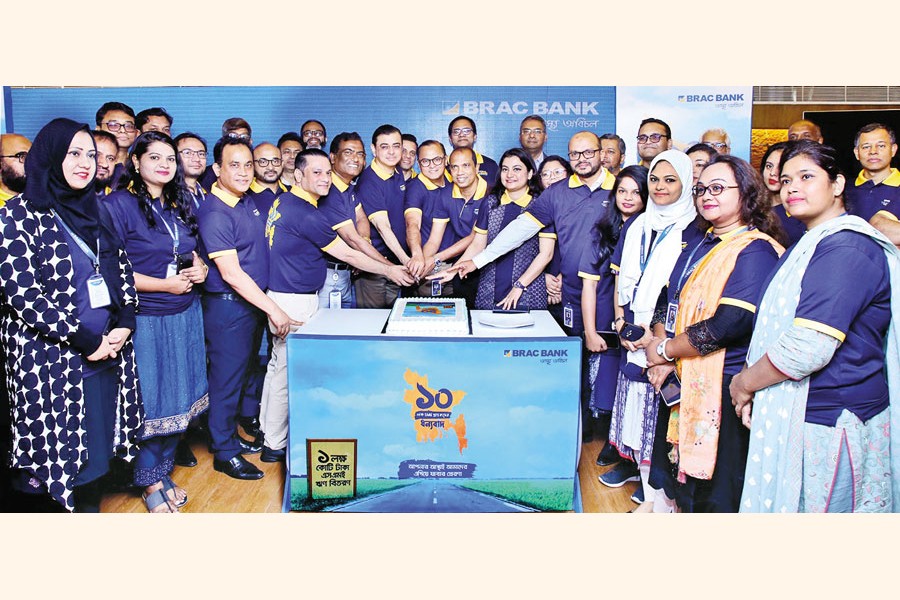 Managing Director & CEO of BRAC Bank Selim RF Hussain and senior management officials join the celebrations of achieving the milestone of serving 1.0 million SME customers at the bank's head office recently.
BRAC Bank has achieved a milestone of serving 1.0 million SME customers, an unprecedented accomplishment in the industry, says a press release.
In fulfilling the entrepreneurial dreams of the customers, the bank has disbursed SME loans worth Tk 1.0 trillion to grassroots entrepreneurs across the country in the 21 years of its operations.
The bank celebrated the achievement at a ceremony at its head office on Wednesday, attended virtually by all regional and SME Unit Office's employees. The bank's Managing Director & CEO Selim RF Hussain, DMD & Head of SME Banking Syed Abdul Momen and senior management officials joined the celebrations.
With the vision to take institutional banking to the 'unbanked' small and medium enterprises (SMEs), BRAC Bank pioneered SME Banking in Bangladesh since its inception in 2001.
BRAC Bank introduced small-ticket loans to bring grassroots entrepreneurs under the umbrella of formal banking. Today, the bank's exceptional SME Banking services and products provide access to formal finance to the cottage, micro and small enterprises that were previously left out of the traditional commercial banking system.
Over the years, the bank has emerged as Bangladesh's largest financier of collateral-free SME loans. BRAC Bank is the only bank in the country having an SME portfolio constituting more than 50 per cent of its total loan portfolio.
Presently, the bank's SME loan outstanding stands at Tk 200 billion, of which 85 per cent is without collateral, unprecedented in Bangladesh's banking sector.
SME loan rural penetration of BRAC Bank is 60 per cent which directly contributes to revitalizing the rural economy and creating employment.
---
---
---
---