---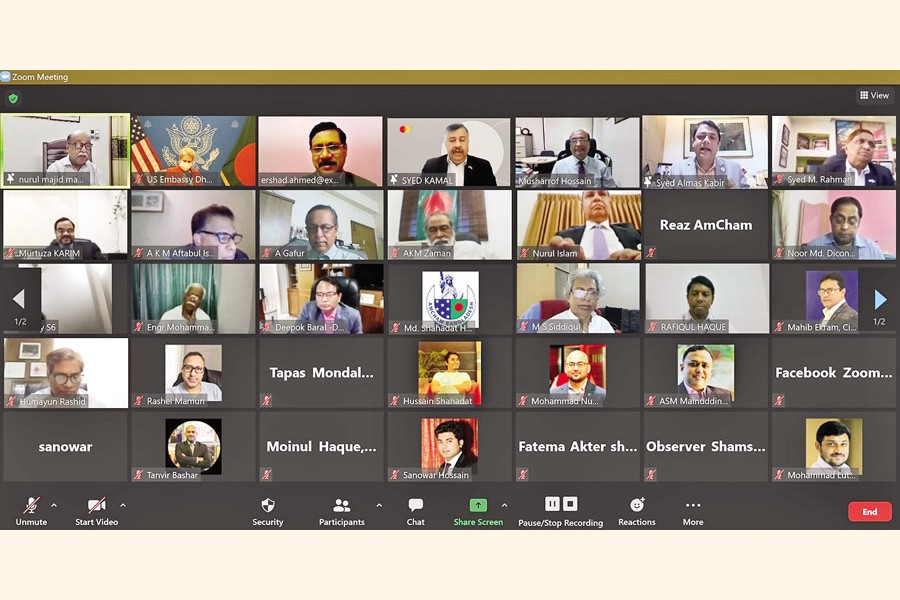 The American Chamber of Commerce in Bangladesh (AmCham) held a virtual panel discussion titled 'Human Capital - A Source of Competitive Advantage' on Tuesday, with Industries Minister Nurul Majid Mahmud Humayun as the chief guest. JoAnne Wagner, Deputy Chief of Mission (DCM), US Embassy, was present as the guest of honour and AmCham President Syed Ershad Ahmed as the session chair.
American Chamber of Commerce in Bangladesh (AmCham) president Syed Ershad Ahmed on Tuesday underscored the need for a greater industry-academia tie-up and developing a curriculum to foster innovation and start-up culture.
Such tie-up can help build human capital - one of the key drivers of corporate success and sustained competitive advantage, he said.
The value of the knowledge and skills that employees and stakeholders collectively bring to a company is the business's human capital, he explained.
He made the observations while speaking at a webinar on 'Human Capital - A source of competitive advantage', organised by AmCham, says a statement.
Industries Minister Nurul Majid Mahmud Humayun was present at the virtual seminar as the chief guest, while Joanne Wagner, deputy chief of mission at the US embassy in Dhaka, as a guest of honour.
AmCham president said organisations these days urgently require employees capable of coping with an array of challenges -- from coping with narrowing profitability gaps to enabling continual innovation and from increasing customer responsiveness to meeting regulatory requirements, among others.
The World Economic Forum mentions Bangladesh's weak education system is the major hindrance to the global competitiveness of the country, said the AmCham president.
The Covid -19 pandemic situation dealt a fresh blow to education and health across the glove, and Bangladesh is no exception, he further said.
The reality is Bangladesh did not focus rightly on this important matter to produce productive human capital; as a result, competitiveness did not improve noticeably in increasing FDI inflow and export diversification, he observed.
AmCham Vice President Syed Mohammad Kamal moderated the discussion.