---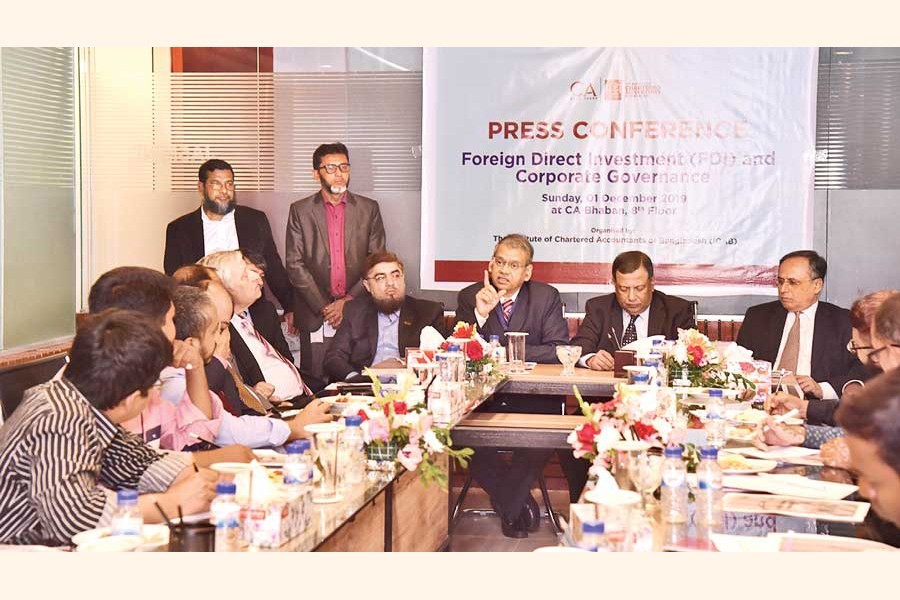 President of the South Asian Federation of Accountants (SAFA) CMA Dr. PVS Jagan Mohan Rao (3rd from right) addressing a press conference on 'Foreign Direct Investment and Corporate Governance' organised by the Institute of Chartered Accountants of Bangladesh(ICAB) at its conference room in the capital on Sunday
Despite there are fantastic policy support and fiscal incentives to attract foreign direct investment (FDI) in Bangladesh, there are bottlenecks at implementation level, chartered accountants (CAs) said on Sunday.
They also said the authorities concerned should play their respective role as facilitators rather than regulators to encourage more FDI that is essential for achieving the country's economic growth at a desired level.
They underscored the need for incorporating professionals from different financial sectors into the regulators to create more favourable business climate for the foreign investors.
They came up with the views at a press conference on 'Foreign Direct Investment (FDI) and Corporate Governance' organised by the Institute of Chartered Accountants of Bangladesh (ICAB) at its headquarters in the capital.
ICAB organised the press conference to brief media after hosting various events of South Asia Federation of Accountants (SAFA) including SAFA International Conference 2019 held on Saturday in Dhaka.
The president of SAFA Dr PVS Jagan Mohan Rao, ICAB President AF Nesaruddin, Council Member Humayun Kabir and other delegates from India, Pakistan, Sri Lanka and Nepal also spoke in the press conference.
Mr. Rao said that Bangladesh is getting recognition as a thriving investment hub, and this is reflected in the country's FDI inflows.
Bangladesh is currently one of the promising economies with a large domestic market, availability of labour with competitive price, low utility charges, seaports, long-term tax holiday, and easy access to largest regional market like India and China, he added.
In his speech, Mr. Nesaruddin said Bangladesh is one of the promising economies in the region with huge prospect in coming years on the back of the government policy, skilled manpower.
Underscoring the need for FDIs in Bangladesh, he said there are mismatches between the policies to attract foreign investors and their implementation.
"Policy framework regarding various incentives to the foreign investors is fantastic, but unfortunately, when it goes into implementation level there are some gaps," he said.
"Main challenge is the bureaucratic bottleneck and lack of understanding by the people who are handling this (FDI facilitation)," added the ICAB president.
The government authorities concerned like Bangladesh Bank (BB) and Bangladesh Investment Development Authority (BIDA) should act as facilitators rather than regulators, he observed.
He suggested the state regulators to incorporate chartered accountants (CA) and other professionals to efficiently handle FDI administration in Bangladesh.
"There is an ardent need to formulate pragmatic policies so that foreign investors feel comfort to invest in Bangladesh," said Mr. Nesaruddin.
Echoing his tone, president of Institute of Chartered Accountants of Pakistan Khalilullah Shaikh said the challenges to handle in the region are very similar. "Having professionals in government bodies are essential," he said.
saif.febd@gmail.com