---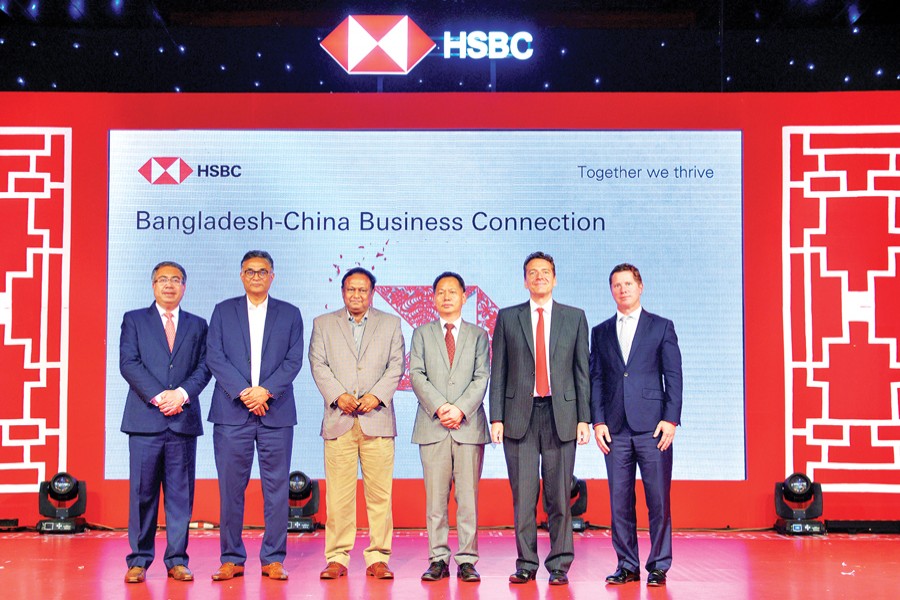 Commerce Minister Tipu Munshi MP seen along with other guests in a Bangladesh-China Business Connections event, arranged by HSBC in the city
China is expected to invest more than $50 billion in the next 10 to 15 years in Bangladesh's thrust sectors like energy and power, transport and communications etc.
Commerce Minister Tipu Munshi MP disclosed this in a Bangladesh-China Business Connections event, arranged by HSBC recently in the city, said a statement.
The Commerce Minister said: "China has been a trusted partner of Bangladesh for a long time now. Under the leadership of the Honorable Prime Minister, Bangladesh has on boarded into the highway of development and China has been a key partner in this journey. I thank HSBC for facilitating Chinese entrepreneurs and enhancing trade relations between China and Bangladesh."
HSBC organised the event this week, bringing successful Bangladeshi and Chinese businesses and institutions, together with economic, government, industry and financial services experts to share insights to help businesses advance their China-Bangladesh commercial strategy.
Keynote speeches explored the opportunity to invest in Bangladesh, as well as market reforms in China and the Belt and Road Initiative, which are accelerating business, trade and investment activity between the two countries.
Chinese Economic and Commercial Counsellor in Bangladesh, Li Guangjun also lauded HSBC for curating a platform and content that supports closer connectivity between companies in China and Bangladesh. He said: "I am confident that the bilateral economic cooperation between Bangladesh and China will be explored in a more extensive way in the future."
During his speech, Sr. Secretary, Power Division, Ministry of Power, Energy & Mineral Resources Dr. Ahmad Kaikaus, said: "Bangladesh is going to be a 'Bright Delta' for the global economy. Indeed, HSBC economists predict that by 2030, Bangladesh will be the 26th largest economy globally. To achieve the targeted 82GW of power generation by 2041, Bangladesh needs more than USD180Bn of investment which is around USD9Bn per year. Kaikus' speech also acknowledged HSBC's leadership role in Bangladesh as a long-term financial partner to finance key investment projects. Kaikus continued by thanking Chinese delegates and clients for their continued investment in Bangladesh.
Speaking at the event, Tim Evans, HSBC Regional Head of Commercial Banking for International
Countries in Asia-Pacific, said: "HSBC's extensive global network offers unparalleled access to high-growth markets like Bangladesh. By leveraging our international footprint, we connect businesses to a network covering more than 90% of global GDP, trade and capital flows."
Francois de Maricourt, Chief Executive Officer for HSBC Bangladesh, said: "Bangladesh and China are rapidly growing economies with growing two-way trade ties. We expect their commercial links to increase even further as China's connectivity with the rest of the world grows. As the leading international bank, HSBC is well positioned to help our clients increase their trade and investment activity from closer economic ties between the two countries."
HSBC Bangladesh Deputy CEO and Country Head of Wholesale Banking, Md Mahbub ur Rahman, reinforced the strength and depth of HSBC's capabilities in Bangladesh and highlighted how HSBC supports businesses on both ends of the China-Bangladesh corridor.