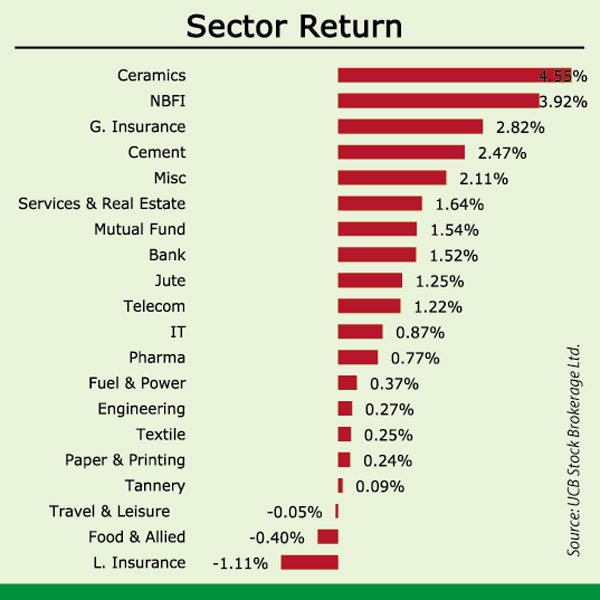 Dhaka bourse on Wednesday extended its gaining streak for third consecutive session and added 248 points to the broad index following investors' active participation.
On the day, investors' participation was satisfactory and the Dhaka Stock Exchange (DSE) posted a good turnover within limited session of two hours.
The market opened the session positively and the DSE broad index DSEX continued its upward trend for ten minutes.
Later, the DSEX lost some points and soon afterwards it rebounded and continued the trend till mid-session.
Finally, the DSEX settled at 5337.33 points with a rise of 1.05 per cent or 56 points.
The shariah based index DSES advanced 0.79 per cent or 9.55 points to close at 1214.16 points.
The DS30 index comprising blue chip securities closed at 2011.19 points with a rise of 1.15 per cent or 22.92 points.
Of 347 issues traded, 199 advanced, 46 declined and 102 were unchanged on the DSE.
At the end of the session, the premier bourse posted a turnover of Tk 5.82 billion which was 14.57 per cent higher than the turnover of the previous session.
Of total turnover, Tk 847 million came from transactions executed in block board.
According to a market review of EBL Securities, Dhaka bourse continued rally on buying-rush and the ease of the lockdown worries prompted investors to take advantage of lower price levels of listed stocks.
"On the third day of the ongoing lockdown, the market has reversed the harm of the earlier plunge by contributing Tk 217 billion in market capitalisation and 248 points in broad index," said the EBL Securities.
Of the sectors which witnessed price appreciation, bank advanced 1.5 per cent, financial institutions 3.9 per cent, general insurance 2.8 per cent, miscellaneous 2.8 per cent, pharmaceuticals & chemicals 0.8 per cent and telecommunication 1.2 per cent.
Of the sectors which witnessed price correction, food & allied and life insurance declined 0.4 per cent and 1.1 per cent respectively.
Investors' participation was concentrated mostly on general insurance sector which grabbed 27.5 per cent of the market turnover followed by bank 20.6 per cent, miscellaneous 10 per cent and telecommunication 7.2 per cent.
According to another market review of International Leasing Securities, the market started the session with a buoyant mode and closed in the same direction observed in previous two sessions.
"Buoyancy in almost all the sectors helped the benchmark index to close above 5,300 points levels after five sessions," said the International Leasing Securities.
Beximco on Wednesday topped the scrip wise turnover chart with a value of Tk 508 million followed by Robi Axiata Tk 367 million, Asia Pacific General Insurance Company Tk 228 million, LankaBangla Finance Tk 167 million and Beximco Pharmaceuticals Tk 158 million.
Index Agro Industries made flying debut on Wednesday with a rise of 50 per cent to close at Tk 75 each. On the day, the company topped the gainers chart of the premier bourse DSE.
Reliance Insurance was the worst loser after declining 4.29 per cent to close at Tk 51.30 each.
All indices of Chittagong Stock Exchange (CSE) advanced moderately on Wednesday.