---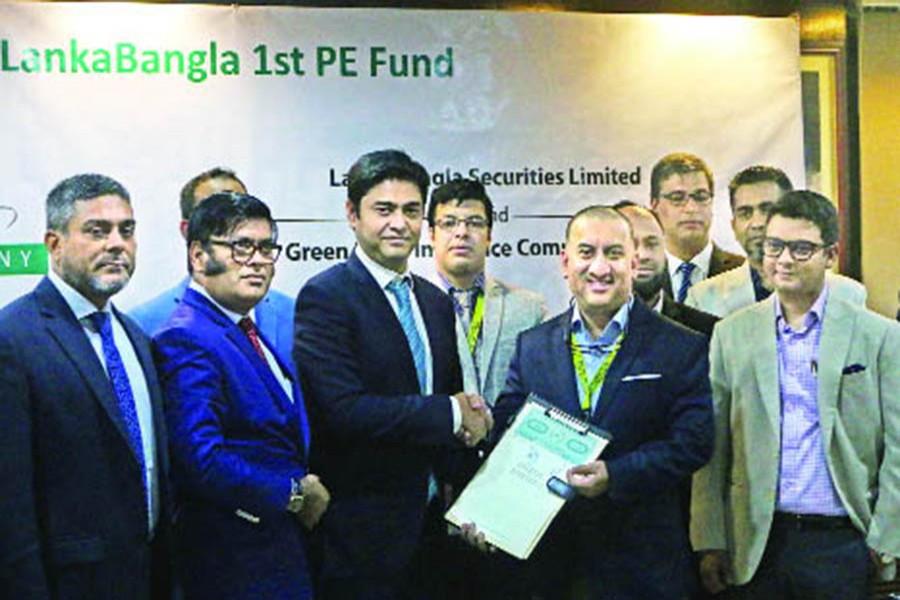 Syed Moinuddin Ahmed (2nd from right), Additional Managing Director & Company Secretary, Green Delta Insurance Company, seen in the event
LankaBangla Asset Management Company Ltd. (LBAMCL) launched the country's first Private Equity fund - LankaBangla 1st PE fund recently.
LankaBangla Securities Ltd is the sponsor of the fund and Green Delta Insurance Company Ltd is the trustee.
The fund size will be BDT 250 million with a tenure of 10 years.
"This is the first private equity fund to be registered under the "Bangladesh Securities and Exchange Commission (Alternative Investment) Rules, 2015," said a statement.
Private equity funds usually raise funds from eligible investors and invest with higher focus on privately held equities and equity linked instruments. Typically, investment in private equity funds lead to higher capital appreciation and dividend prospect compared to traditional mutual funds.
This fund aims to invest in Information Technology& IT enabled service, Pharmaceuticals &Health, Agriculture & Food, Resource Efficiency and Light Engineering sectors.
Globally, private equity funds are a popular investment vehicle with assets under management of USD 5.8 trillion.
Bangladesh has seen a dearth of investment opportunities as the country has only a small number of equities listed in the bourse. Alternative funds of this nature will enable investors to have a pie in a hugely untapped private equity market.
---
---
---