---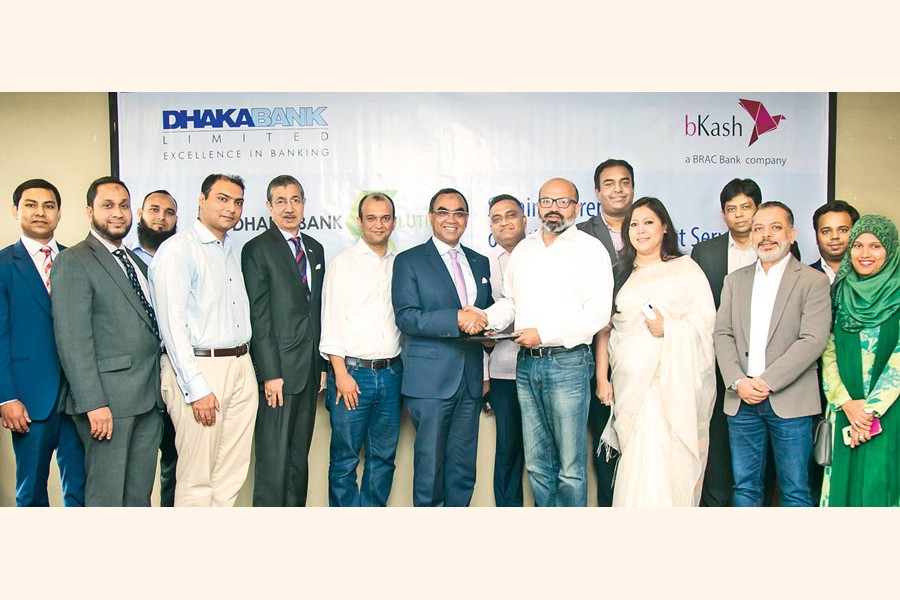 Syed Mahbubur Rahman, Managing Director and CEO of Dhaka Bank Ltd (left), and Kamal Quadir, CEO of bKash Limited, exchanging the signed agreement on behalf of their respective organizations. Under the agreement, Dhaka Bank Ltd will provide automated payment services to bKash Ltd
Dhaka Bank Limited has signed an agreement recently at Amari Dhaka for providing automated payment services to bKash Ltd, said a statement.
Mr. Emranul Huq, Additional Managing Director of Dhaka Bank Ltd. and Mr. Moinuddin Mohammed Rahgir, Chief Financial Officer of bKash Ltd. have signed the agreement while Mr. Syed Mahbubur Rahman, Managing Director and CEO of Dhaka Bank Ltd. and Mr. Kamal Quadir, CEO of bKash Limited exchanged the agreement on behalf of their respective organisations.
Mr. Shakir Amin Chowdhury, DMD, Operations; Mr. A M M Moyen Uddin, SEVP and Head of Information Technology Division; Mr. Mustafa Hussain, EVP & Manager, Dhaka Bank Ltd. Mohakhali Branch; Mr. Adnan Mehdi, Head of Treasury, bKash Ltd & other officials were also present at the signing ceremony.
Under the agreement, bKash will avail automated payment solution via Dhaka Bank's Online Payment Portal C Solution.
---
---
---
---