---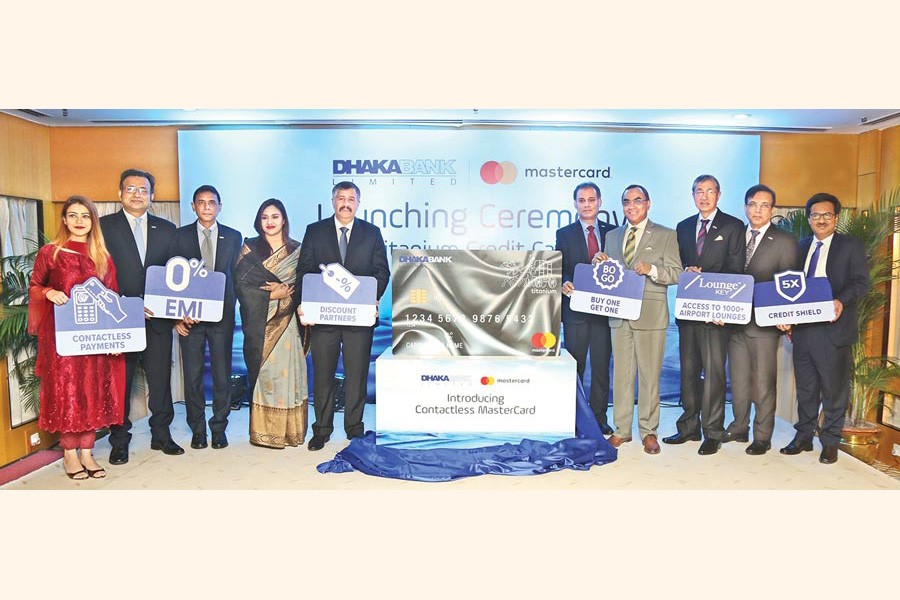 Syed Mahbubur Rahman (4th from right), Managing Director & CEO, Dhaka Bank Limited, seen in the launching ceremony of Mastercard Titanium Contactless Credit card in Bangladesh held on Monday
Dhaka Bank Limited has announced a partnership with Mastercard to launch their Mastercard Titanium Contactless Credit card in Bangladesh during a product launching ceremony Monday, said a statement.
With this launch, the bank along with Mastercard has embarked on the journey of bringing latest technology of card-based payments in the country.
The launching ceremony was held at a renowned hotel in the capital city.
Mr. Syed Mahbubur Rahman, Managing Director & CEO, Dhaka Bank Limited and Mr. Syed Mohammad Kamal, Country Manager, Bangladesh, Mastercard were present in the event. Moreover, Mr. Emranul Huq, Additional Managing Director, Mr. Shafquat Hossain, SEVP & Head Retail Business Division of Dhaka Bank Limited along with other senior executives of both the organizations were present at the event.
The Contactless EMV-enabled Mastercard Titanium Credit Card will facilitate more secure way to transfer and store credit card information of the users as well as ease cardholders' day-to-day transactions by allowing them to simply tap the card in front of a card-reader or POS terminal to complete the transaction, thereby eliminating the need for swiping or inserting the card into the terminal.
Along with the relentless pursuit of pacing up with new technology, Dhaka Bank Limited and Mastercard will also bring luxury and convenience for the cardholders by offering a range of benefits and discounts through Mastercard's wide network of over 3,000 partner outlets in the country and globally.
In addition to promotional offers like BOGO (Buy-1-Get-1) at top hotels in the country and International Lounge access offer through LoungeKey, Dhaka Bank Limited and Mastercard will be offering exclusive Discounts & EMI at dining, lifestyle and electronic outlets throughout the country. Alongside, customers now can enjoy exclusive facilities like availing up to 2 supplementary (add-on) credit cards, card cheque as an alternative to credit card with a promotional balance transfer interest rate, 24/7 helpline service and an exclusive credit shield insurance protection for unforeseen event.
Customers will be offered additional benefits which include availing OTP (One Time Password)/2FA for e-commerce transactions, cashback on the first usage/swipe of the card and loyalty programs such as rewarding highest spender for every three months and credit card mileage points on usage, which will later redeem for customers' various expenditures. Moreover, there is a buy one air ticket and get 50% cashback on 2nd one facility for the cardholder if the ticket is purchased online from Bangladesh Biman website/app towards selective destinations.