---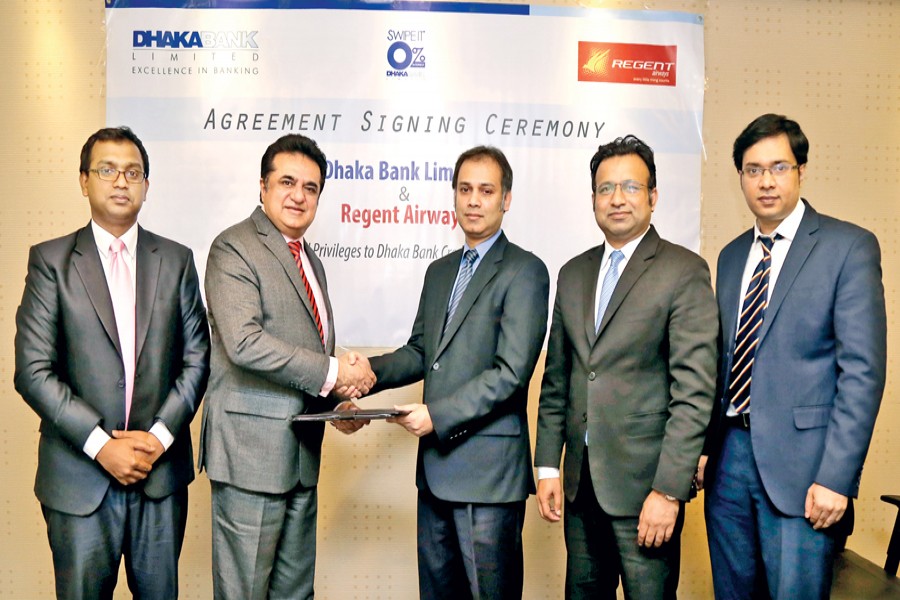 H. M Mostafizur Rahaman, Head of Cards of Dhaka Bank Limited and Hanif Zakaria, Chief Commercial Officer of Regent Airways, exchanging documents after signing an agreement on behalf of their respective sides in the city recently
Regent Airways has signed an agreement with Dhaka Bank Limited at Retail Business Headquarters of the bank in the city recently, according to a statement.
Under the agreement, Dhaka Bank credit and debit cardholders will enjoy 10 per cent discount on base fare of all international flights and 7 per cent discount on base fare of all domestic flights.
Moreover, Dhaka Bank credit cardholders will enjoy up to 6 months instalment purchase option at 0 per cent interest under its "SWIPE IT" scheme.
H. M Mostafizur Rahaman, Head of Cards of Dhaka Bank and Hanif Zakaria, Chief Commercial Officer of Regent Airways, signed the deal on behalf of their respective sides.
Md. Shafquat Hossain, Head of Retail Banking, Dhaka Bank Limited, Kazi Ahmed Ullah AGM, marketing & Holidays of Regent Airways, along with other officials from both the organisations were also present in the agreement signing ceremony.
---
---
---
---