Dhaka bourse closed the Tuesday's session marginally higher after correction of previous session following investors' increased participation in major sectors.
The market opened the days' session with a positive note and the DSEX, the broad index of Dhaka Stock Exchange (DSE), continued the upward trend for half an hour.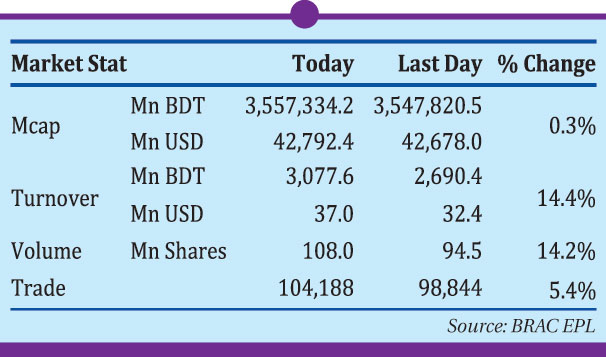 The DSEX witnessed correction during mid-session as many shaky investors created selling pressure.
Later, many investors took position in sector specific stocks and the broad index close marginally higher riding on last hour buoyancy.
At the end of the session, the DSEX settled at 4703.70 with a rise of 0.54 per cent or 25.34 points.
The shriah based index DSES advanced 0.63 per cent or 6.84 points to close at 1081.39.
The DS30 index comprising blue chip securities closed at 1637.14 points with a rise of 0.64 per cent or 10.53.
According to International Leasing Securities, the broad index bounced back to the green amidst increased participation from the investors based on the latest quarterly earnings declarations.
"The last hour buoyancy on lucrative price levels in banks, financial institutions, food, engineering and textile sectors helped the prime index close higher," said the International Leasing Securities.
On the Chittagong Stock Exchange (CSE), the benchmark index CASPI advanced 0.38 per cent or 55.17 points to close at 14280.62 points.
Of 260 issues traded, 138 advanced, 86 declined and 36 remained unchanged.
The turnover value stood at above Tk 121.52 million on the port city bourse CSE.
mufazzal.fe@gmail.com