Stocks ended higher Tuesday, after remaining flat in the past four sessions, as investors showed their buying spree amid post-Eid expectation.
Market analysts said investors showed buying appetite on banking, telecommunication, food and pharmaceuticals sectors' shares as pre-Eid sale pressure eased.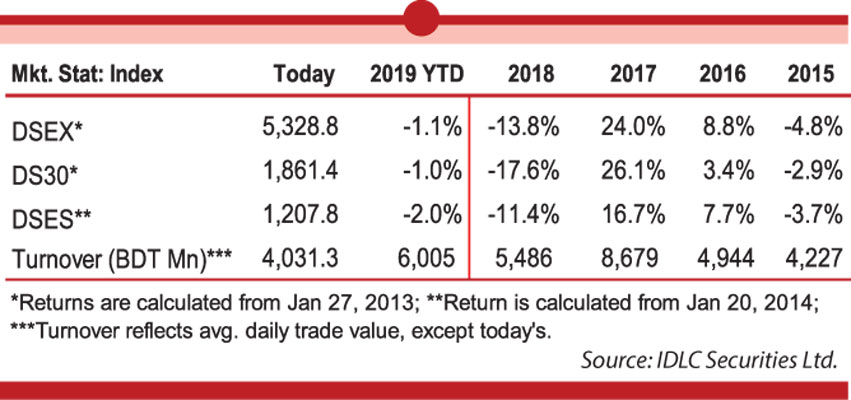 Only two trading sessions are left before nine-day Eid vacation. Trading and official activities will remain closed from May 31 to June 8, including weekly and special holidays.
The market opened on optimistic note and the upward trend continued until end of the session with no sign of reversal.
DSEX, the prime index of the Dhaka Stock Exchange (DSE), crossed the 5,300-mark after six sessions and settled at 5,328, gaining 75.21 points or 1.43 per cent.
After four consecutive flat sessions, finally DSEX accumulated enough strength to surge 75 points riding on prominent sectors, commented Shetech Brokerage.
Most of the sectors went up following the prominent large caps like BATBC, BRAC Bank, United Power and Square Pharmaceuticals, soaring 5.80 per cent, 3.30 per cent, 3.0 per cent and 2.50 per cent respectively.
Two other indices also ended higher. The DS30 index, comprising blue chips, rose 33.06 points to finish at 1,861 and the DSE Shariah Index advanced 18.75 points to close at 1,207.
Turnover, another important indicator of the market, stood at Tk 4.03 billion, which was nearly 15 per cent higher than the previous day's turnover of Tk 3.51 billion.
The investors' activity was mostly focused on banking, pharmaceuticals and food sectors, grabbing 20 per cent, 17 per cent and 10 per cent respectively.
EBL Securities said investors are expecting a good boost to the capital market after Eid holidays.
Large-cap sectors witnessed significant gain with food posted the highest gain of 4.92 per cent, followed by telecommunication with 2.44 per cent, power 1.57 per cent, banking 1.48 per cent, pharma 1.46 per cent, engineering 1.0 per cent and financial institutions 0.75 per cent.
The gainers took a strong lead over the losers as out of 349 issues traded, 225 advanced, 70 declined and 54 issues remained unchanged on the DSE trading floor.
The port city bourse, Chittagong Stock Exchange, also ended higher with its CSE All Share Price Index - CASPI -jumping 243 points to settle at 16,260 and the Selective Categories Index - CSCX -gaining 150 points to finish at 9,845.