---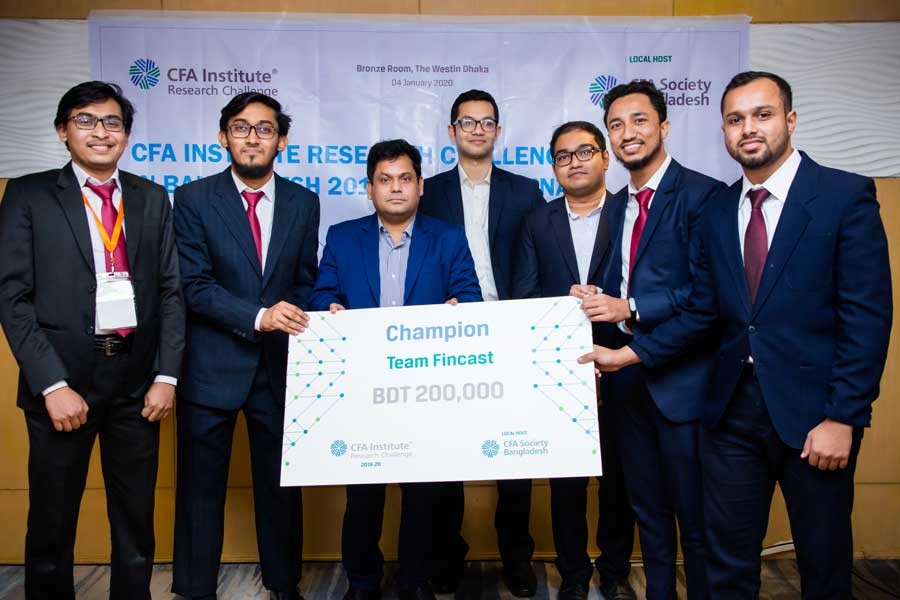 A team from Faculty of Business Studies, the University of Dhaka, pose for a photograph after winning the local final of the CFA Institute Research Challenge 2019-20 at a city hotel on Saturday
CFA Society Bangladesh announced that a team from Faculty of Business Studies, the University of Dhaka, has won the local final of the CFA Institute Research Challenge 2019-20 and now advances to the Asia Pacific Regional final to be held in Seoul, South Korea, where the team will compete against universities from Asia Pacific countries, said a statement.
The local final of this globally prestigious competition was held at The Westin Hotel in the city on Saturday.
A team from the Institute of Business Administration, University of Dhaka, became the first runner up and a team from Bangladesh University of Professionals, came out as the second runner up.
Shahidul Islam, CFA, President, CFA Society Bangladesh and Asif Khan, CFA, the coordinator of the local competition spoke at the closing ceremony and handed over certificates and prize money of Tk 3,50,000 to the winning teams.
The local competition started on October 05, 2019 and 103 teams from 27 universities/institutes around the country participated in this competition. From there top 10 teams were selected for the equity research report round and based on their performance top five teams proceeded to the local final.
The students from the winning team will now travel to the regional final in Seoul, South Korea, where they will match their wits, analytical skills and presentation abilities against student teams from the Asia Pacific region.
The students presented their analysis and buy/sell/hold recommendations on Marico Bangladesh Ltd. Their presentation at the local final was the culmination of months of research; interviews with company management, competitors, and clients; and presentation training.