---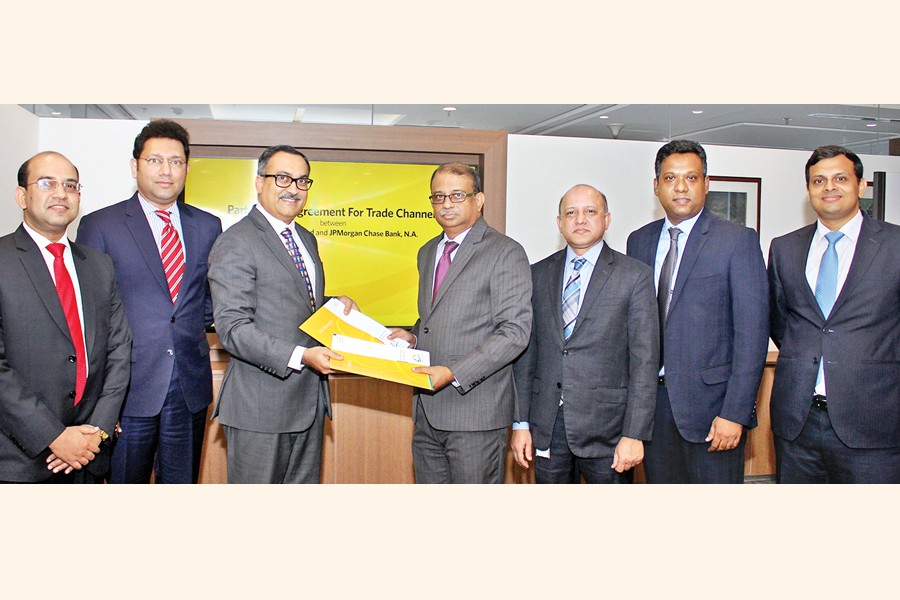 Ali Reza Iftekhar, Managing Director and CEO, Eastern Bank Limited, and Madhav Kalyan, Managing Director and CEO, J. P. Morgan Chase Bank NA, India and Head of Corporate Banking, South and Southeast Asia, exchanging documents after signing a partnership agreement in Dhaka recently
Eastern Bank Limited (EBL) has entered into an agreement with J.P. Morgan, Singapore for processing letter of credit documents through electronic channel.
Besides ensuring quicker payments for Bangladeshi exporters it will also support J.P. Morgan's client that require quicker turnaround on document processing for imports from Bangladesh.
The arrangement will help Bangladeshi representative offices of foreign importers, faster receipt of their documents. It will reduce the need to for physical movement of document between Singapore and Bangladesh which, typically can take up to 10 days.
"The service business, approved by Bangladesh Bank, is a new dimension of international business facilitating both importer and exporter and benefiting the trade business of banks and the economy," said Mr. Ali Reza Iftekhar, Managing Director and CEO, Eastern Bank Limited.
"Bangladesh has seen significant growth in its exports. J.P. Morgan has a longstanding relationship with the country and we will continue to partner with financial institutions like Eastern Bank Limited to help their clients grow their business," said Madhav Kalyan, Managing Director and Bank CEO, J. P. Morgan Chase Bank NA, India.
"We chose EBL given its trade finance expertise in the Bangladeshi market. This partnership provides an innovative solution to meet clients' needs and tight turnaround times," said Rajiv Warrier, Head of Trade, South Asia and ASEAN, J.P. Morgan.
EBL handles about 4.5 per cent of trade business of the country and handled around USD 3.5 billion of trade businesses last year and plans to handle more in year 2019.
---
---
---
---