eGeneration has taken the initiative to help fight coronavirus by introducing the 'Beat Corona - AI against corona' quest.
eGeneration has developed CoronaBot and X-ray image analysis tool specifically geared to improve and accelerate the detection of coronavirus, said a statement.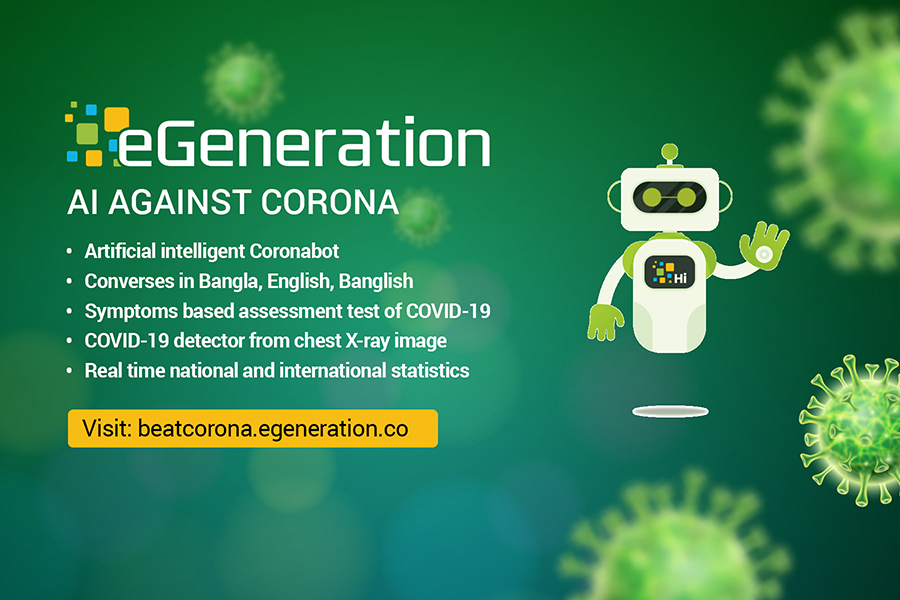 eGeneration CoronaBot implements a self-testing tool which assists users to determine if they are a suitable candidate for COVID-19 test. This encourages prompt self-isolation to safeguard others from possible transmission and grants healthcare staffs with more time to attend to the critical victims of coronavirus. In addition, the CoronaBot is powered with AI to acknowledge and answer user questions. The bot can also respond to questions asked in English, Bengali and Bengali to English.
Furthermore, eGeneration has developed an X-ray image analysis tool using machine learning technology which has proven to be an effective method of detecting COVID-19 from chest X-ray image. Using this tool, users will be able to identify whether they are healthy, suffering from a mild case of pneumonia or infected by COVID-19 by simply providing an x-ray image of their lungs to eGeneration BeatCorona (http://beatcorona.egeneration.co/). Two machine learning models are used in this tool: Feed-forward Neural Network and Convolutional Neural Network which are trained with processed data collected from various hospitals of Italy and China. These X-rays will help facilitate in the undertaking of massive screening programs while speeding up the detection of coronavirus which results in the successful reduction of transmission.
Shameem Ahsan, Chairman of eGeneration Group said, "eGeneration has been working diligently in healthcare software and analytics for past two years, and from that work, the capability we have grown in artificial intelligence and machine learning, we have been able to develop these solutions in a short time to fight against coronavirus. eGeneration will be investing in technology solutions to defend pandemics like COVID-19, as well as to ensure proper healthcare and well-being of people in both local and international sphere which will allow us to make a significant contribution to the healthcare sector."
Sabbir Arif Siddique, Head of Artificial Intelligence (AI), Natural Language Processing (NLP) and Blockchain said, "We have been harnessing the power of Machine Learning and Artificial Intelligence technology for government and international market for a long time. eGeneration BeatCorona is our effort to provide this disruptive technology to the people of Bangladesh as well."
eGeneration strongly believes that possessing appropriate knowledge and awareness to battle this fatal disease is crucial, especially because it lacks an effective cure. This stresses the importance of conducting a self-assessment test which needs to be considered as a compulsory first-step approach towards fighting coronavirus. Moreover, this will lessen the burden of healthcare officials who are working tirelessly to examine numerous coronavirus test results.