---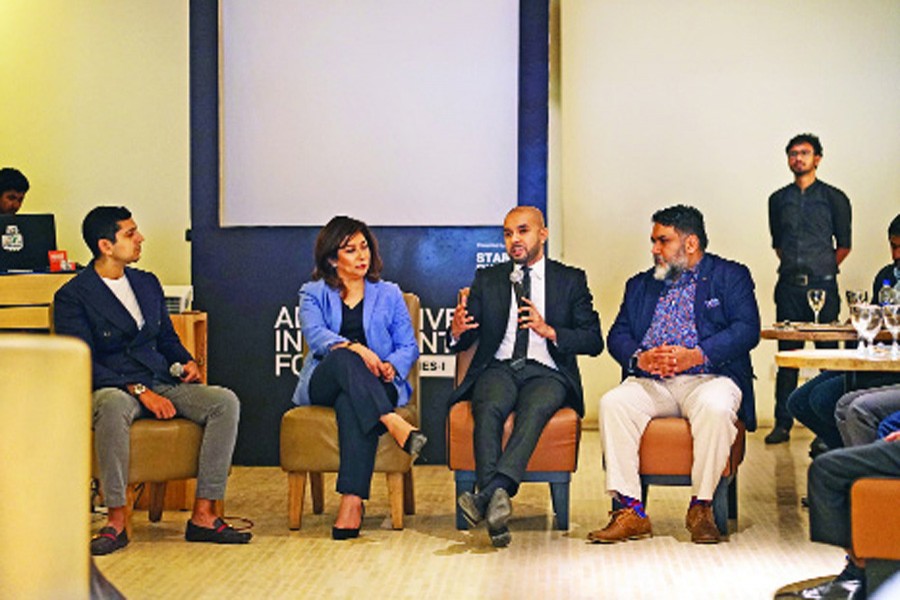 Samad Miraly, cofounder of Startup Dhaka, Sonia Bashir Kabir, a prominent angel investor, Fahim Rahman, Private Equity Fund expert and Nazim Farhan Choudhury, managing director, Adcomm, seen in the event
Startup Dhaka organised Alternative Investment Forum Series I recently at Art Café, Gulshan with a view to promoting angel investing in Bangladesh.
The event, first of its kind in our country, was specifically geared towards raising awareness about the early-stage funding landscape in Bangladesh. About 39 participants and 9 prominent speakers graced the occasion.
The event started with the address of Mustafizur Khan, CEO and cofounder of Startup Dhaka.
Khalid Quadir, cofounder and managing partner, Brummer & Partners (Bangladesh) Ltd., then took the stage with his keynote speech on the differences between venture capital and private equity.
He pointed out how venture capital focuses on early-stage startups where valuation depends on the team and the concept. On the other hand, private equity deals with more mature businesses which have a proven business model and sizeable revenue.
'It is a timely initiative by Startup Dhaka to connect the startups with potential investors and forums like this also act as an amazing platform for diverse entrepreneurs to network and share ideas,' remarked Mohammed Salman, founder of online educational technology platform 'Yoda'.
A panel discussion took place on angel investing in Bangladesh moderated by Samad Miraly, cofounder of Startup Dhaka.
Sonia Bashir Kabir, a prominent angel investor, explained that technology needs to be seen as the ultimate enabler. She believes fintech, agrotech and edutech are the sectors that are most likely to thrive in Bangladesh in the near future.
Nazim Farhan Choudhury, managing director, Adcomm, disclosed that he always looks for the experience and working ability of the team members when he considers a startup for investment and he always tries to develop a good relationship with the entrepreneur to make them feel comfortable. Fahim Rahman, Private Equity Fund expert, pointed out that it is the passion and the grit of the entrepreneurs that ultimately instils the confidence in the investors.
After the panel discussion ended, Anita Ghazi Islam, founder and partner, The Legal Circle, discussed legal bindings, rights, and responsibilities pertinent to angel investors. Her session briefly explained the process of investment in Startups and shed some light on conducting due diligence, getting regulatory approvals, writing investment agreements, registering the investment, and creating articles of association.
Abdullah Chowdhury, founder of Royalty Bangladesh, the first ever dedicated privilege card platform of the country, also attended the event. 'The nascent startup community of Bangladesh genuinely required an initiative like this, and Startup Bangladesh is doing a great job bridging the businesses with the right investors and sharing relevant knowledge with the entire community' he said.