Navana Pharmaceuticals made a flying debut on Tuesday on the bourses as its share price hit the upper limit circuit breaker amid much hype among investors.
The share price jumped 10 per cent, or Tk 2.40 each, to close at Tk 26.40 on the Dhaka Stock Exchange despite the market's persistent fall for the fourth straight session this week.
Only 35 trades of the stock were executed with a total 1,182 shares changing hands. At one stage, trading stopped for a lack of sellers.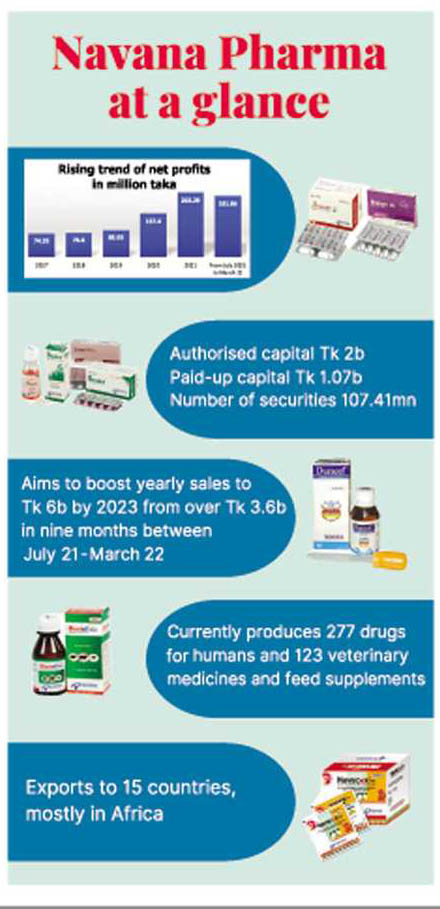 Investors were keen on putting their money in Navana Pharmaceuticals with an expectation of good returns against the backdrop of an excellent growth of the sector in recent years, said Mir Ariful Islam, managing director and chief executive officer of Sandhani Asset Management.
"Investors rushed to buy its shares, but sellers were unwilling to sell their stakes as they hope to make higher profits in future," he said.
The share price could not go up further despite a high demand from investors due to the regular circuit breaker. Profits of the drug maker are sales-driven, and a steady profit growth over the last few years attracted investors, Mr Ariful added.
Navana Pharma has posted a 45 per cent growth in profit in nine months through March 2022, compared to the same period in the previous fiscal year.
The company's profit after tax jumped to Tk 191.84 million during the period from Tk 132.39 million a year ago.
The pharmaceutical sector went through a production boom after the Covid outbreak for a rising demand for drugs. Sales went up, so did profits.
Joynul Abedin, company secretary of Navana Pharmaceuticals, said the company had added more than 10 products to its product list in the past two years, and more would be included in future.
"We are expecting Tk 6.0 billion yearly sales by 2023."
The pharmaceutical industry in Bangladesh has experienced a double-digit growth in the last one decade, driven by a large consumer base, improved health consciousness and a supportive regulatory framework, experts say.
Research and Markets, a Dublin-headquartered firm, predicted that Bangladesh's pharmaceutical industry will grow at an average of 12 per cent per year for the next three years and take the market size to more than $6 billion by 2025.
Exports of pharmaceuticals products rose 11.69 per cent to $188.78 million during the fiscal 2021-22, according to data from the Export Promotion Bureau.
Navana Pharma has been exporting products since 2003 with destinations increased to 15 countries, mostly in Africa, said Mr Abedin.
From the IPO proceeds, the company will build a new general production unit at Rupshi in Rupganj, worth Tk 232.40 million; a new utility and engineering building for Tk 97.30 million and will refurbish the cephalosporin unit for Tk 178.50 million in the next two years.
After completing the new project, the production capacity will almost double, Mr Abedin said.
Currently, the human health division produces more than 277 drugs in the forms of tablets, capsules, oral liquids, ampoules, dry powder vials, powders for suspension, eye drops, creams, ointments etc.
The veterinary division manufactures and markets more than 123 medicines and feed supplements targeting poultry, dairy, and aqua farming sectors.
Incorporated in Bangladesh in 1986, Navana Pharma raised Tk 750 million under the book-building method. Its authorized capital is Tk 2.0 billion, paid-up capital is Tk 1.07 billion and total number of securities is 107.41 million.
There are around 200 medicine manufacturers in the country, with their capacity expanding every year. Having met about 98% domestic demand, the sector achieved an excellence in manufacturing to export products.
Currently pharmaceutical products manufactured in Bangladesh are exported to as many as 180 countries worldwide. The sector is expected to have further growth inspiring investors to put their money in the companies listed on the bourses.