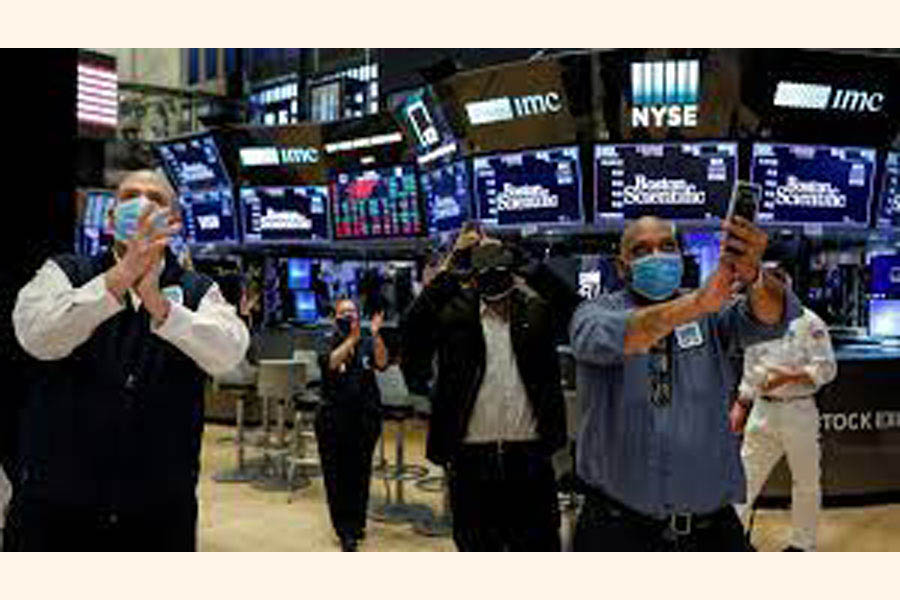 LONDON/SINGAPORE, Feb 8 (Reuters): Shares globally jumped and most currencies rose against the dollar on Wednesday, as investors discerned a dovish tone in comments from Fed Chair Jerome Powell, though a policy tweak by the ECB meant European bonds sat out the rally.
MSCI's world share index rose 0.37 per cent, heading back towards the nine-month high it hit in early February, and Europe's STOXX 600 index gained 0.85 per cent to a fresh nine month peak.
Major benchmarks in France, Britain and Germany were all well into positive territory, after shares gained on Wall Street overnight and in Asia earlier in the day.
MSCI's broadest index of Asia Pacific shares outside Japan rose 0.76 per cent though Japan's Nikkei failed to join in the rally after disappointing results from big tech names including Nintendo.
In an eagerly awaited speech on Tuesday, the Federal Reserve's Powell reiterated that disinflation has begun but warned Friday's eye-popping jobs report showed why the battle against inflation will "take quite a bit of time."
The data showed a surprising addition of 517,000 new jobs in January and stoked fears that the tight labour market may compel the Fed to remain hawkish, and investors were relieved that that Powell did not lean further into this argument in his speech.
"The market is looking for a dovish message where it can almost regardless. Powell said effectively the terminal rate could be higher than the market expects, but the Nasdaq and S&P500 were up, though I think they're wrong," said Ben Jones, director of macro research at Invesco.
Aggressive rate increases by the Fed and other central banks last year to tame inflation had hurt shares and boosted the dollar, but those trends have reversed this year on signs that inflation had begun to slacken, raising hopes of rate cuts towards the end of this year.
"At the moment (markets are ) all about the Fed, but at some point it has to morph into being about growth and earnings growth as well," said Jones.
Powell's avoidance of a more hawkish tone also gave a cue to currency markets, as the euro rose 0.23 per cent against the dollar, and the pound gained 0.33 per cent.
"The dollar selling also reflected what Powell didn't say," said MUFG FX analysts in a morning note to clients.
US Treasuries firmed a little on Wednesday with the benchmark 10 year yield <US 10YT=RR> down 3 basis points (bps) to 3.649 per cent and the two year yield down 4 bps.
Yields move inversely to prices.
However in Europe bonds continued to sell off following a sharp tumble the previous day after the European Central Bank said it would cut the interest rate it pays governments on deposits.
Two-year German yields , the most sensitive to any shifts in expectations for interest rates and inflation, rose by as much as 11 basis points (bps) to 2.725 per cent in early trading, their highest since Jan. 3.
The other overnight news event was US President Joe Biden's State of the Union speech in which he challenged Republicans to lift the US debt ceiling and support tax policies that were friendlier to middle class Americans.
Assailing oil companies for making high profits and corporate America for taking advantage of consumers, Biden used his prime time speech to outline progressive priorities of his Democratic Party that are anathema to many Republican lawmakers.
Oil prices ticked up on Wednesday, continuing this week's gains with Brent crude at $84.15, up 0.5 per cent on the day, US crude rose 0.5 per cent to $77.54 per barrel, helped by the slightly softer dollar.
Gold likewise rose, with the spot price up 0.4 per cent to $1882.9 per ounce.