Initial public offering is a means to raise capital from public investors for the expansion of a business. But when companies are making less money, battered by inflation and other global worries, any plan for further growth is put on hold.
The data of IPOs floated this year compared to the previous year is a reflection of such a scenario, indicating a sharp decline in the funds raised.
The depressed economy brought forth other discouraging factors - cheaper bank loans and share price determining system - as stronger than before when it comes to make an initial public offering.
Six companies and a mutual fund raised an aggregate amount of Tk 6.46 billion until August this year. Another company got the regulator's approval to raise Tk 700 million.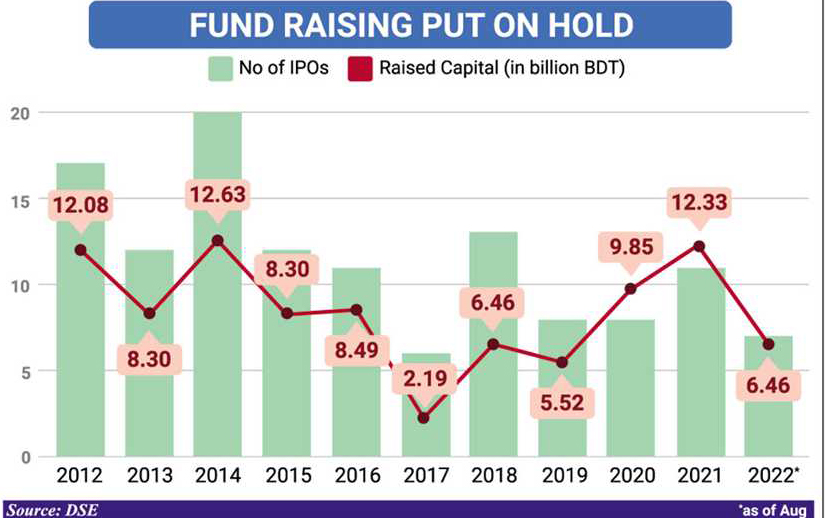 Even if these numbers are added, the figure falls far short of Tk 12.33 billion raised in 2021.
Officials of Bangladesh Securities and Exchange Commission (BSEC) said another five IPOs are in the pipeline.
Many companies are reluctant to raise capital from the primary market as their turnovers declined against the backdrop of the macroeconomic scenario.
And if they need additional funds at all, they can go to banks, as former chairman of the securities regulator Faruq Ahmad Siddiqi said, "The cost of funds from bank loans is very low compared to the cost involved in raising capital from public investors.
"The banks themselves chase the companies to provide loans," Mr. Siddiqi added.
BSEC Executive Director Mohammad Rezaul Karim said many companies' earnings had been down due to the outbreak of Covid and the following economic crisis. "They are waiting for some sort of economic normalcy. The trend of IPOs will increase significantly in the year to come."
Another major factor that companies are critical of is the process to follow to float an IPO.
While making an offer, a company has to abide by one of the two methods -- fixed price method and book building method -- to set the value of each share.
Under the fixed price method, a company's share price is fixed at Tk 10 each while the offer price is determined with premiums under the book building method.
Managing Director of IDLC Investments Md. Moniruzzaman said many good companies are not happy with the book building method as their robust growth in earnings per share in a certain year is not reflected in the price determined through bidding.
As per the existing system, a company's share price cannot exceed the sum of net asset value (NAV) per share and the weighted average of EPS in the last five years.
"While taking to us, a few companies said their earnings would not be reflected in the price to be determined under the book building method," Moniruzzaman said, adding that the existing price discovery system has also discouraged many companies from going public.
Of the six companies, four raised capitals under the fixed price method and the remaining two went public under the book building method.
The former group comprises Islami Commercial Insurance Company, Chartered Life Insurance Company, Global Islami Bank, and Meghna Insurance Company.
Navana Pharmaceuticals and JMI Hospital Requisite Manufacturing Limited went public under the book building method.
Apart from those, ICB AMCL CMSF Golden Jubilee Mutual Fund raised Tk 25 million and Midland Bank is awaiting an IPO subscription to raise Tk 700 million.
About companies' reaction to the existing price discovery system, BSEC Executive Director Rezaul Karim said the regulator has to apply a defensive system in the interest of investors and companies.
"Nevertheless, the regulator may consider exceptions for companies including multinational ones having good fundamentals."
Of 11 companies that raised Tk 12.33 billion in 2021, three got funds amounting to Tk 4.25 billion under the book building method while the other eight raised 6.88 billion under the fixed price method.
The IPO funds increased substantially in 2021 as many companies sought business expansion, had to repay loans, and needed to meet working capital requirements.