Stocks continued to fall for the third straight session on Monday, with cautious investors indulging in sell-offs during the ongoing dividend declaration season.
At the end of the day, DSEX, the benchmark index of the Dhaka Stock Exchange (DSE), settled 48 points or 1.02 per cent lower at 4,650.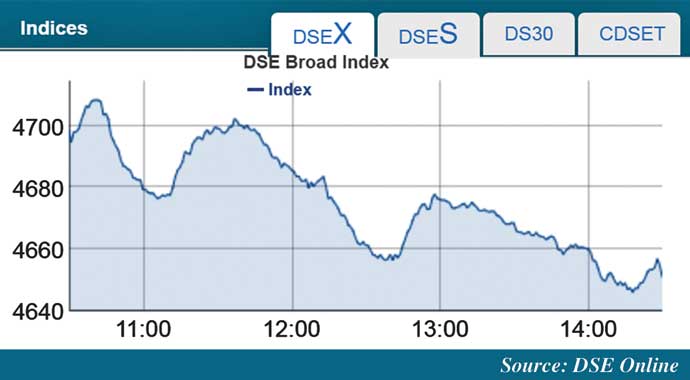 The DSEX lost a total of 108 points in the past three consecutive sessions, as a number of large-cap companies reported poor year-end earnings and declared lower dividends.
The Grameenphone (GP) took a big hit, with its share price plunging 6.63 per cent to close at Tk 298.40 on Monday. It soared 8.12 per cent the previous day.
The GP, the largest company in terms of market-cap, alone wiped out 41.53 points from the DSEX on Monday, according to the amarstock.com, a stock market data analyst.
Shaky investors also liquidated their holdings from BATBC, Square Pharma, Investment Corporation of Bangladesh and Olympic Industries, said a leading broker.
On Sunday, the GP deposited Tk 10 billion to the state coffer as per the Supreme Court's order, bringing to an end its years-long tussle with the telecom regulator over unpaid dues.
The Supreme Court on Monday also ordered GP to pay the remaining Tk 10 billion to the Bangladesh Telecommunication Regulatory Commission (BTRC) within the next three months, which prompted investors to sell GP shares.
Two other indices also ended in the red. The DS30 index, comprising blue chips, fell 20.54 points to close at 1,571 and the DSES (Shariah) index shed 12.42 points to settle at 1,073.
Turnover, an important indicator of the market, stood at Tk 6.0 billion on the country's premier bourse, falling 10 per cent over previous day's turnover of Tk 6.68 billion.
According to the International Leasing Securities, most of the investors decided to liquidate their holdings from telecom, food, financial institution, banking and power stocks to avoid further losses.
Telecom sector witnessed the highest loss of 6.39 per cent, followed by food (1.70 per cent), non-bank financial institutions (1.58 per cent), banking (1.03 per cent), power (0.95 per cent) and pharma (0.32 per cent).
Losers took a strong lead over the gainers, as out of 355 issues traded, 201 closed lower, 103 ended higher and 51 remained unchanged on the DSE trading floor.
A total of 149,307 trades were executed in the day's trading session with trading volume standing at 208.03 million shares and mutual fund units.
The market-cap of the DSE also fell sharply to Tk 3,550 billion from Tk 3,599 billion in the previous session.
VFS Thread Dyeing topped the turnover chart with shares worth Tk 269 million changing hands, closely followed by GP, Orion Pharma, Confidence Cement and SK Trims & Industries.
VFS Thread Dyeing was also the day's best performer, posting a gain of 9.96 per cent while Northern Jute Manufacturing Company was the worst loser, shedding 8.74 per cent.
The Chittagong Stock Exchange also ended lower with its All Shares Price Index -- (CASPI) -- losing 116 points to close at 14,263 and the Selective Categories Index -- CSCX -- plunging70 points to finish at 8,656.
Here too, the losers beat gainers, as 134 issues closed lower, 78 ended higher and 32 remained unchanged on the CSE.
The port city bourse traded 9.82 million shares and mutual fund units worth Tk 260 million in turnover.