---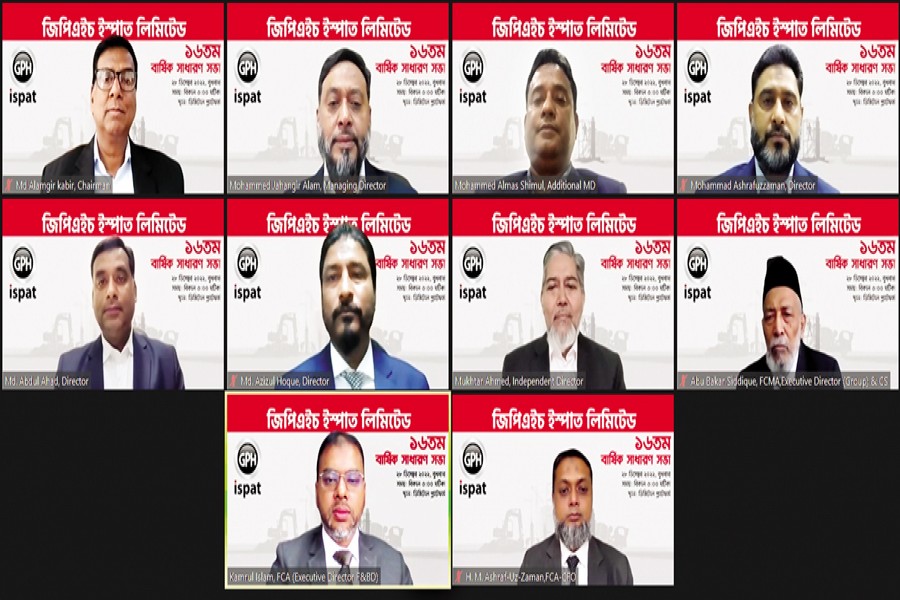 Chairman of GPH Ispat Limited Mohammad Alamgir Kabir presides over the 16th AGM of the company on a digital platform on Wednesday
OUR CORRESPONDENT
CHATTOGRAM, Dec 28: The 16th annual general meeting (AGM) of GPH Ispat Limited was held on a digital platform on Wednesday.
Chairman of the company Mohammad Alamgir Kabir presided over the AGM attended by Group Chairman and Managing Director Mohammad Jahangir Alam, Additional Managing Director Mohammad Almas Shimul, Directors Md Ashrafuzzaman, Md Abdul Ahad, Md Azizul Haque, Independent Director Mukhtar Ahmed, Executive Director (Group) and Company Secretary Abu Bakar Siddique FCMA.
Executive Director (F&BD) Kamrul Islam FCA conducted the session and replied to the questions from the shareholders. Chief Financial Officer HM Ashrafuzzaman FCA, and senior officials of the company were also present in the meeting.
In the AGM, the financial statements of GPH Ispat Ltd. for the year ended on June 30, 2022, the audit report and the report of the Board of Directors were unanimously approved.
The AGM also approved 5.50 per cent cash and 5.50 per cent stock dividends for the shareholders for financial year 2021-22.
Addressing the AGM, GPH Ispat Chairman Mohammad Alamgir Kabir said, "Currently, the construction industry of Bangladesh is expanding fast. Considering the future demand, sustainability and safety of the construction project, GPH is the only company that has introduced world-class technology, Quantum Electric Arc Furnace (QEAF), in Bangladesh. Already, we have proved our capability by participating in many mega projects of our country such as 3rd terminal and Karnaphuli tunnel."
Group Chairman and Managing Director Mohammad Jahangir Alam said, "The Russia-Ukraine war, Covid-19 and the global economic slowdown have severely disrupted the global supply chain of the steel market and international trade in 2021-2022, while raw material prices and shipping and freight costs have also increased. In these challenging times, GPH management has adopted strategic decisions, new innovations, cost control and power saving policies."
He said, "GPH has achieved its target revenue growth, which is 65.67 per cent higher than last year. In financial year 2021-22, GPH contributed Tk 4.42 billion (Tk 442.23 crore) to the government exchequer at various stages of its production and sales and that is almost 10 per cent of our total sales and 13 per cent more than the previous year."
He said, "It is a matter of great pleasure that GPH has started production of GPH Quantum B600C-R steel re-bar for the first time, which is tested and certified by BUET. It is ready to meet the growing residential and infrastructure construction needs of the country. The steel re-bar is stronger than any rod on the market, which will reduce construction rod consumption by 16 to 30 per cent.
Mohammad Almas Shimul, Additional Managing Director of GPH, said, "We are manufacturing the best technology and quality steel in the world."