Grameenphone reported a profit of Tk 30.10 billion for the year 2022, the lowest in five years, as it was hit hard by foreign exchange loss and regulatory ban on the sale of SIM cards.
The annual profit was also 12 per cent lower than the year before.
The leading telecom operator saw its revenue grow at 5.1 per cent year-on-year to Tk 150.4 billion for 2022. The growth was achieved despite the fact that the subscriber-base fell 5 per cent to 79.10 million after Bangladesh Telecommunication Regulatory Commission had imposed the ban in June 2022 on SIM cards sale for what it said was poor service quality.
"Grameenphone exhibited a resilient performance in the face of external hurdles in the fourth quarter of 2022, ending the year with continued topline growth momentum," said Yasir Azman, chief executive officer of Grameenphone.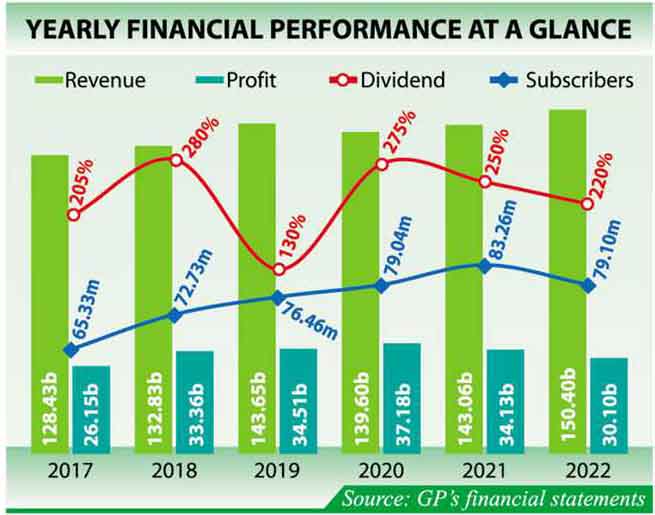 He attributed the yearly growth to increased investment in network and deployment of new spectrum, reaching the milestone of over 20K total sites and 19.6K 4G sites.
GP invested Tk 5 billion for better network coverage and expansion in the fourth quarter of 2022.
Its commitment to prioritizing customer experience helped boost data usage by 38.8 per cent year-on-year, while 4G data users rose 23.6 per cent to 34.2 million at the end of 2022, said Mr Azman.
And all that happened when the total subscriber-base shrunk.
About 55 per cent of GP's total subscribers or 43.6 million used internet services in 2022, declined by 2.2 per cent from the end of 2021.
In addition to strengthening its core, GP stands out in terms of innovation and customer-oriented solutions through advanced mobile technologies, said Mr Azman in a statement.
GP has entered into strategic partnerships with Google and Facebook and provides solutions to ensure convenience for customers, reads the statement.
In partnership with mobile banking service provider bKash, GP has enabled hassle-free automated payment features.
"These efforts combined have led to increased engagement from digital channels and growing customer adoption," said Mr Azman, adding "We look forward to expanding services and scaling solutions for customers via our partnership with a2i and continue on our pivotal role in the digitalization and economic growth of the country".
Jens Becker, chief financial officer of Grameenphone, said investment in network and spectrum deployment had contributed to the growing usage in data and bundle segments, and that led to seven consecutive quarters of year-on-year revenue growth though the subscriber-base suffered for the ban on SIM sales.
On January 2 this year, the regulator withdrew the ban following constructive dialogs and engagement.
Grameenphone's income before interest, taxes, depreciation and amortization (EBITDA) also shows a growth supported by higher revenue and efficiency measures "despite increasing pressure from the macroeconomic climate and rising inflationary costs," said Mr Becker.
The EBITDA for the full year grew by 4.8 per cent with a margin of 62.4 per cent.
"Net profit was adversely impacted by foreign exchange loss and negative verdict of legacy litigation," Mr Becker said.
GP's foreign exchange loss stood at Tk 1.43 billion in 2022 against foreign exchange gain of Tk 80 million in 2021.
The board of GP has declared 95 per cent final cash dividend for 2022, taking the total dividend to 220 per cent which represents 98.72 per cent of profit after tax for the year.
Earlier, it gave 125 per cent interim cash dividend.
GP has also reported net asset value (NAV) per share of Tk 34.22 and net operating cash flow per share (NOCFPS) of Tk 47.26 for the calendar year of 2022, down from Tk 36.94 and Tk 42.82 respectively for the previous year.
Listed in 2009, GP is the largest stock when market cap is considered. Its price has been languishing at the floor price of Tk 286.6 since September 22 last year.
Grameenphone, part of the Telenor Group, has built the largest cellular network in the country, covering nearly 95 per cent of the population.