---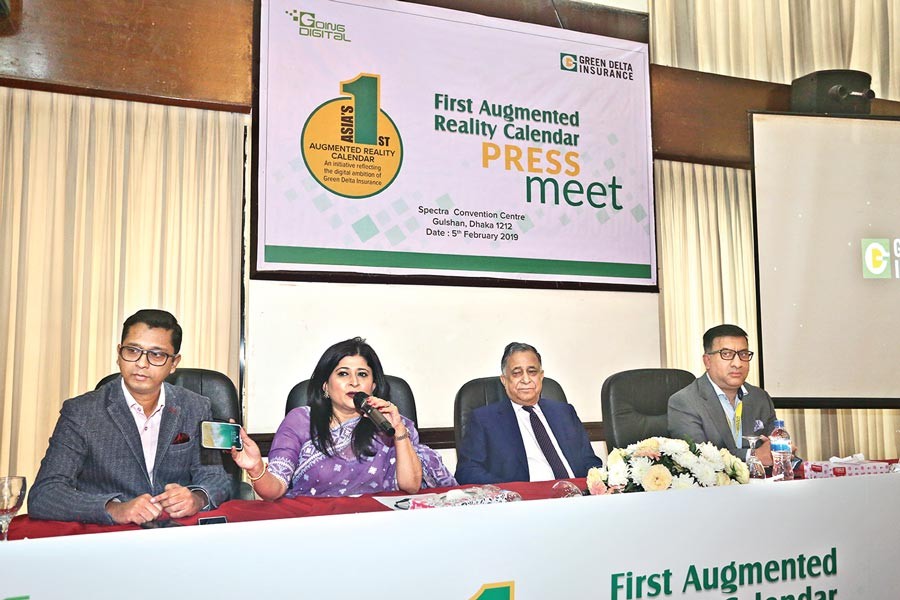 Managing Director and CEO of Green Delta Insurance Company Farzana Chowdhury and Advisor & Founding Managing Director Nasir A Chowdhury seen in the press conference on Tuesday — FE Photo
Green Delta Insurance Company, a leading non-life insurance entity of the country, has launched the country's first-ever Augmented Reality calendar.
This AR calendar is also the first of its type in whole Asia, according to Green Delta officials.
The whole augmented reality experience is delivered through a mobile application called 'GD Calendar' developed by Green Delta.
The application is available for download in both iOS App Store and Android and Google Play Store.
This digital version of the desk calendar works in a way when an individual looks at the desk calendar through the app's built-in camera-the still images of the calendar turn into a live or animated story while showing the hidden messages.
The augmented reality scheme was unveiled at a press briefing held in the capital on Tuesday.
"As a digitally conscious entity, Green Delta Insurance has played a pioneering role in embracing digital technology," the company's Managing Director and CEO Farzana Chowdhury said at the press conference.
"Our AR calendar is surely another reflection of Green Delta's digital ambition," she added.
Ms. Chowdhury also mentioned that Green Delta was the "first in Bangladesh to transform the idea of 'Digital Insurance' into reality".
She added: "We launched this digital platform just three or four months ago and we already have 30 thousand policyholders using this platform."
Additional Managing Director of Green Delta Syed Moinuddin Ahmed said, "The average age of our policyholders is 35 years while the worth of average premium is around Tk 300.00."
This shows that insurance is not at all expensive and it has the potential to reach a wider segment of rural population, he added.
"We are the fastest growing insurance company in the country in terms of health insurance. And we have already brought 0.6 million families under our insurance coverage," he said.
Advisor and Founding Managing Director of Green Delta Nasir A Chowdhury also spoke at the press briefing.