Rising costs of raw materials and freight charge brought down sales of Heidelberg Cement Bangladesh Ltd, inflicting a loss of Tk 36.02 million in the third quarter this year.
The company suffered a loss of Tk 108 million in the same period last year. As a result, earnings per share moved up to Tk -0.64 from Tk -1.91.
The German-based cement manufacturer has reported a loss of Tk 241.30 million in nine months from January to September, 2022 while it made a profit of Tk 558.52 million in the same period a year ago.
The EPS declined mainly for higher costs of raw materials and shipping charges.
The depreciation of taka added to the expenses for the company imports a big chunk of raw materials used in the production.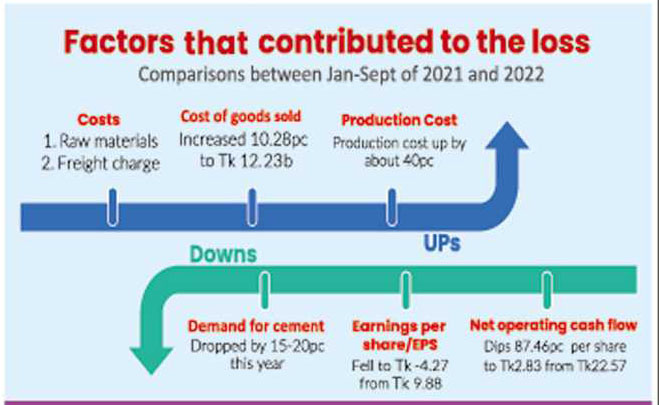 Following its dismal earnings, the Heidelberg Cement's share price remained stuck at floor price at Tk 179.10 each in the last one month since September 21.
Profits of most of the listed cement makers also dropped between 40 per cent and 90 per cent in the nine months between July 2021 and March 2022.
Industry insiders said the price of cement's main raw material clinker went up dramatically since 2021 by 70 per cent in the international market. Also, the maritime freight charge skyrocketed and the local fuel price jumped by 40-50 per cent during the period
As a result, the production cost rose about 40 per cent while the demand for cement dropped 15-20 per cent this year, according to industry insiders.
A slowing down of public construction works due to the government's austerity measures and sluggish private initiatives for inflation contributed to the decline in the demand, according to a merchant banker.
The country's real estate companies are cautiously taking up new projects apprehending a decrease in the sales of flats in the coming months, he said.
According to the latest industrial data of the Bangladesh Bureau of Statistics, the cement manufacturing sector has witnessed a growth of only 0.26 per cent year-on-year to 17.90 million tonnes in the last 10 months until April 2022.
The concerns are stemming from the ongoing Russia-Ukraine war, the strain on foreign currency reserves, runaway inflation and high construction costs, according to the realtor companies.
There are 37 active cement factories in Bangladesh and more than Tk 300 billion has been invested in the industry, according to Bangladesh Cement Manufacturers Association (BCMA).
Manufacturers have a combined annual production capacity of 58 million tonnes against a local demand of 33 million tonnes. The industry employs 60,000 people directly and another one million indirectly.