ICB AMCL posts net profit of Tk 531.1m in FY '22
85pc cash dividend approved in AGM
---
---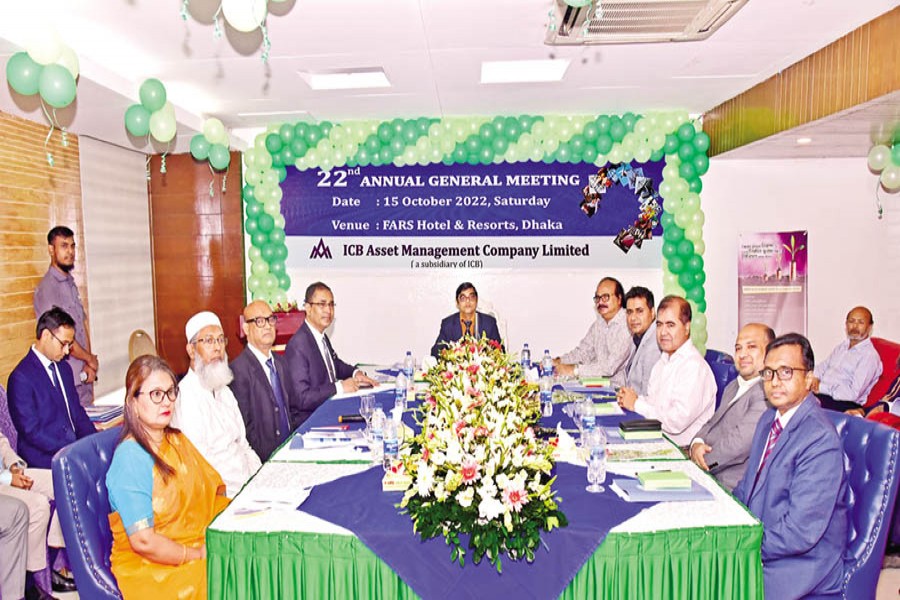 The 22nd annual general meeting of ICB Asset Management Company Limited (AMCL) was held at a city hotel on Saturday, with its Chairman Dr Md Kismatul Ahsan in the chair. Chief Executive Officer ATM Ahmedur Rahman was also present.
FE Report
ICB Asset Management Company Ltd. (AMCL), a subsidiary of the Investment Corporation of Bangladesh (ICB), has earned a net profit of Tk 531.10 million for the year ended on June 30, 2022.
The company's board of directors approved the financial statements for fiscal year (FY) 2021-22 at its 22nd annual general meeting (AGM) held at a city hotel on Saturday, said an official of the ICB Capital Management.
During the year, the company posted a gross profit of above Tk 1.07 billion. This profit was mainly generated from management fees of mutual funds, capital gains and dividend income.
Of Tk 1.07 billion, Tk 560 million came from management fees, Tk 330 million from capital gains and Tk 150 million from interest income.
The company has reported its earnings per share (EPS) of Tk 134.88, registering a growth of 51 per cent year on year.
The net asset value (NAV) per share stood at Tk 1,211.87 for FY 2021-22 as against Tk 1157.88 the previous year.
At the AGM, the company's board of director has approved 85 per cent cash dividend, including 70 per cent interim cash dividend, for FY 2021-22.
The AGM was presided over by Dr Md Kismatul Ahsan, Chairman of the Board of Directors of the company. Chief Executive Officer ATM Ahmedur Rahman and other directors/shareholders were present in the meeting.
As an operator of the capital market, the ICB Capital Management manages mutual fund and its own portfolios.
The company has been managing 10 closed-end mutual funds and 15 open-end mutual funds.
---
---
---
---