---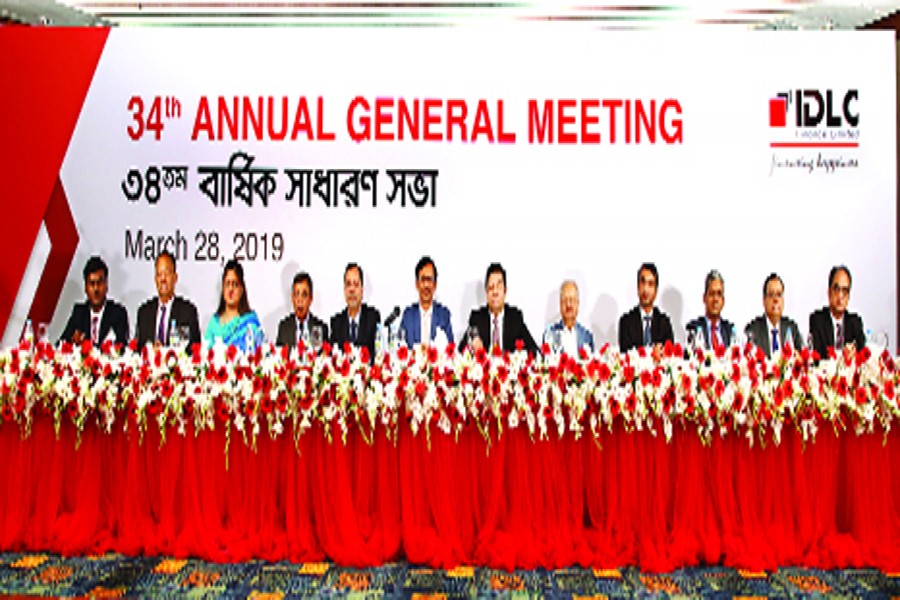 Aziz Al Mahmood, Chairman of IDLC Finance Limited, presided over the company's 34th Annual General Meeting (AGM) at Radisson Blu Water Garden Hotel, Dhaka on Thursday. Arif Khan, CEO & Managing Director of IDLC Finance Limited, along with other directors were also present
The 34th Annual General Meeting (AGM) of the shareholders of IDLC Finance Limited was held on Thursday at the Radisson Blu Water Garden Hotel, Dhaka.
In line with the proposal by the Board of Directors, the AGM approved 35 per cent cash dividend (Taka 3.50 per share) for the company`s shareholders for the year 2018, said a statement.
The AGM was told that IDLC continued to be the frontrunner in the financial market, and displayed resilient performance in 2018, despite the challenging market conditions.
At the end of 2018, the IDLC Group's total loan book increased by 17.39% reaching BDT 83.93bn, while NPLs reduced to 2.20% (2018) from 2.77% (2017), reflecting an improvement in portfolio quality. This succeeded in strengthening the Total Asset size by 14.09% to BDT 109.17 bn, which contributed to a 5 year Cumulative Average Growth Rate (CAGR) of 16.70%. Even the 5 year CAGR of the Group's Net Profit after Tax stood tall at 26.53% at the yearend, despite the decline in profitability experienced by the subsidiaries (IDLC SL, IDLCL IL and IDLC AML) during 2018.
Aziz Al Mahmood, Chairman, IDLC Finance Limited presided over the AGM, which was also attended by other Directors -Atiqur Rahman (Chairman of the Executive Committee), Monower Uddin Ahmed (Independent Director and Chairman of the Audit Committee), Md. Abdul Wadud, Mahia Juned, Mohammad Mahbubur Rahman, Mr. Md. Kamrul Hassan, Mati Ul Hasan, Niaz Habib, Matiul Islam Nowshad, the CEO & Managing Director, Arif Khan and the Company Secretary Mohammad Jobair Rahman Khan. A large number of shareholders were also present at the meeting.
---
---
---
---