The Dhaka bourse closed the Wednesday's session with a moderate loss in broad index following selling pressure observed in major sectors.
The market opened the day's session with a positive note but after a while the broad index started to decline and continued the trend till mid session.
Later, the DSE broad index DSEX displayed volatility and showed a little effort to overcome the initial loss.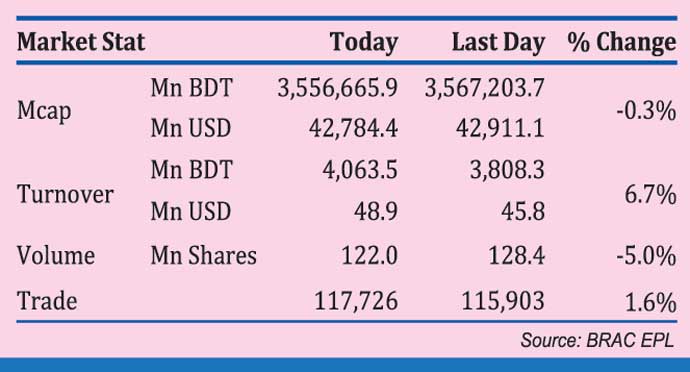 Finally, the DSEX closed at 4691.93 with a loss of 0.64 per cent or 30.43 points.
According to a market review of International Leasing Securities, the Dhaka stocks slipped into the negative zone amid the volatility over the last three sessions.
"Shaky investors are closely watching the sector specific stocks ahead of year-end dividend adjustment," said the International Leasing Securities.
On Wednesday, the shariah based index DSES declined 1.0 per cent or 10.94 points to close at 1075.44.
The DS30 index comprising blue chip securities settled at 1645.30 with a loss of 0.95 per cent or 15.91 points.
Of 340 issues traded, 132 advanced, 161 declined and 47 were unchanged on the premier bourse.
Of the large cap companies having influence on index, the share price of Grameenphone rose 0.62 per cent or Tk 2.0 to close at Tk 323.10 each.
The turnover stood at above Tk 4.06 billion which was 6.69 per cent higher than the transaction of the previous session.
On the Chittagong Stock Exchange (CSE), the benchmark index CASPI declined 0.49 per cent or 71.37 points to close at 14263.01 points.