---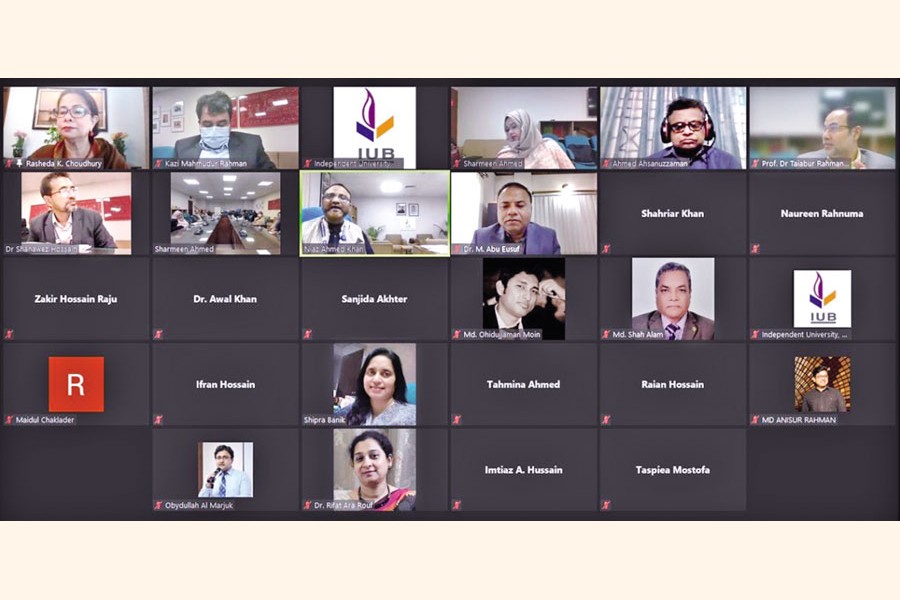 The Department of Social Sciences and Humanities at Independent University Bangladesh hosted a webinar on post-budget discussion on Wednesday, with Rasheda K. Choudhury, Executive Director, CAMPE, as the chief guest
The Department of Social Sciences and Humanities (DSSH) at Independent University Bangladesh (IUB) hosted a webinar styled as 'Post-Budget (FY 2021-22) Discussion: Education Sector in Focus' on Wednesday.
Rasheda K. Choudhury, Executive Director, CAMPE and former advisor of the caretaker government, attended the event as the chief guest, says a statement.
Prof Niaz Ahmed Khan, Pro-VC, IUB, Prof Dr. Taiabur Rahman, Dean, School of Liberal Arts and Social Sciences (SLASS), IUB, and Prof Dr. Mohammad Abu Eusuf, Department of Development Studies, Dhaka University, took part in the discussion.
Dr. Kazi Mahmudur Rahman, Associate Professor, Department of Social Sciences and Humanities, and Dr. Md. Shanawez Hossain, Asst. Professor, Global Studies & Governance, IUB, gave the keynote presentation on the topic.
Sharmeen Ahmed, Acting Head of the Department of Social Science and Humanities, IUB, delivered the inaugural speech and moderated the programme.
The presentation highlighted the consequences of pandemic, Bangladesh Government's responses to the crisis, education sector in ADP allocation, and poverty and education. In addition, design of an immediate rescue package to salvage higher education sector by enhancing ICT support to students of public university was presented.
Prof. Niaz Ahmed Khan called for attention to the need for proper policies and budget allocation to address the issue of inequality in the education sector.
All the discussants unanimously agreed that the proposed tax on private universities and English medium schools must be withdrawn. Otherwise, it will ultimately create extra burden on students, which, in turn, will lead to an increased number of dropouts and that could well be the last nail in the coffin of the already struggling institutes.