Livestock insurance coverage facility for cattle farmers
BRAC Bank and Green Delta Insurance's jt venture
---
---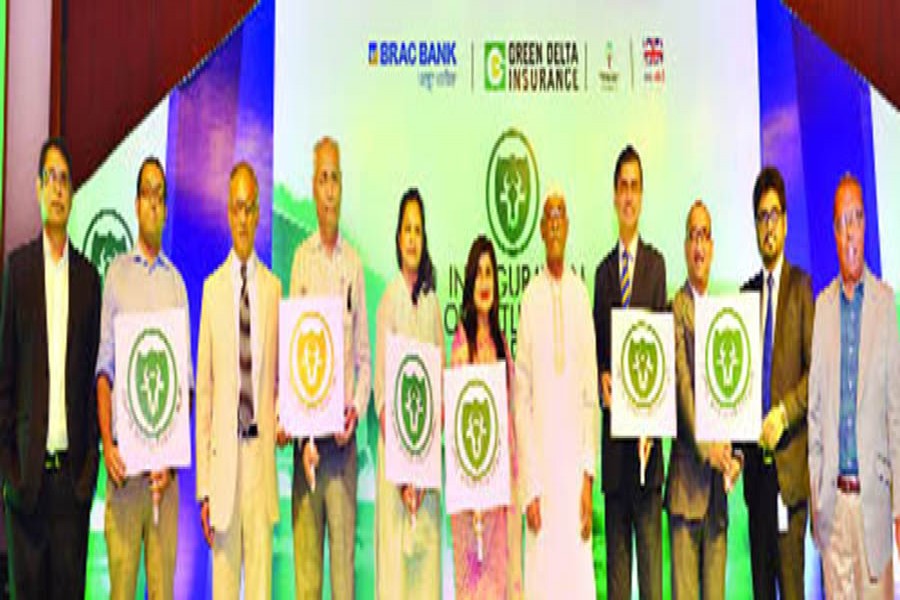 Selim R. F. Hussain (4th from right), Managing Director & CEO, BRAC Bank, and Farzanah Chowdhury (middle), Managing Director & CEO, Green Delta Insurance Company Limited, seen in the event
BRAC Bank Limited and Green Delta Insurance Company Limited have jointly launched Bangladesh's first ever livestock insurance coverage facility for the cattle farmers, said a statement.
The initiative is supported by BFP-B (Business Finance for the Poor in Bangladesh) Challenge Fund, a project of DFID, and managed by NATHAN Associates, London.
The unique scheme will immensely benefit the cattle farmers as it aims to mitigate the risk of livestock loss caused from accidental death, diseases, partial disability or even death during calving.
The new facility is a part of the two organisations' continued commitment to bring in innovative products for their valued customers. Green Delta introduces a unique system of NFC enabled collar tag for cattle identification and monitoring that will facilitate smooth claim settlement.
Md. Ashraf Ali Khan Khasru, MP, State Minister, Ministry of Fisheries and Livestock, formally inaugurated Cattle Shield Programme at a ceremony at Pan Pacific Sonargaon Hotel recently.
Besides Selim R. F. Hussain, Managing Director & CEO, BRAC Bank; and Farzanah Chowdhury, Managing Director & CEO, Green Delta Insurance Company Limited; Shykh Seraj, Director& Head of News, Channel i; and Syed Moinuddin Ahmed, Additional Managing Director & Company Secretary, Green Delta Insurance Company; were also present.
Selim R. F. Hussain, Managing Director & CEO, BRAC Bank, said: "Since its inception, BRAC Bank has a particular focus on SME financing with a broader vision of financial inclusion and pro-poor growth. This innovative facility with help of technology bears testimony to the bank's commitment to inclusive banking especially for small and marginal farmers.
"This insurance coverage will boost country's cattle rearing sector and encourage more people to start the farming commercially in bigger scale. It is to be an important tool for poverty alleviation and job creation, particularly in the rural areas of Bangladesh as it safeguards the interest of the farmers," he added.
---
---
---
---